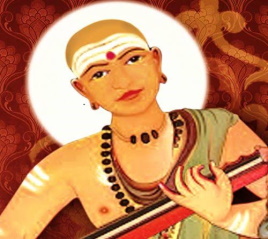 INTRODUCTION
Muthuswami Dikshitar (1775–1835) was a great  poet, singer, veena player, and a great composer of Carnatic Music. His compositions are highly praised for their detailed descriptions of Hindu gods and temples. His compositions are popular and even today it is sung in classical concerts of Carnatic music. He is also appreciated for his divine music similar to the great musicians Shyama and Thyagaraja. He is considered as one among the three musical doyens. His compositions were developed mainly in Sanskrit.
LIFE
Muthuswami Dikshitar was born in Tiruvarur. He learnt the vedas, music and the divine scriptures.  He spent his childhood in Manali, Chennai and after some time, a saint named Chidambaranatha Yogi took him under his custody and went to Varanasi. There he was taught basic education, music and yoga. After the death of his guardian, Dikshitar returned from Benares and resided at Tiruttani near Murugan temple.
Due to the grace of Lord Tituttani Murugan, he became a master in music and was able to compose lot of divine songs. His career in music started in full swing and it lasts till his death.
He was an ardent devotee of Lord Muruga and praised his glory and sung devotional songs on him. He also visited and composed music and played veena in the temples at Kanchi, Tiruvannamalai and Chidambaram.
He was also a regular visitor of Tiruvarur temple and worshipped Lord Thyagaraja and composed many divine songs on him. Muthuswami Dikshitar died in the year 1835 at Ettayapuram. A samadhi was constructed at Ettayapuram in his memory and lot of people and musicians visits his samadhi. Muthuswami Dikshitar's brothers were also very famous musicians.
IMPORTANCE
He was an ardent devotee of Lord Shiva and Muruga and spent his life towards composing and singing songs on them. He was also a noble and a pious man and he had done several pujas in Tirutani Murugan temple and Thyagaraja swamy temple. He also provided food to the poor and educated the poor children. His greatness cannot be described in full. He was a great musician and was admired by the visitors of his music concerts.
Mostly he performed music in temples with great dedication and devotion on god. He was blessed by the gods and regarded as a born musician.
Let us worship the great musician and be blessed.
"OM SREE MUTHUSWAMI DIKSHITARE NAMAHA"
"OM SREE TIRUTHANI MURUGANE NAMAHA"
"OM SREE THYAGARAJA SWAMIGALE NAMAHA"
WRITTEN BY
R.HARISHANKAR