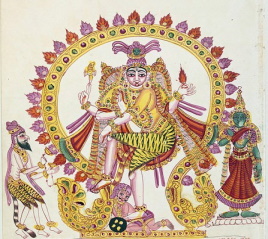 According to Holy texts, Bhringi was a great rishi, and an ardent devotee of Lord Shiva. It is believed that he was very much devoted to Lord Shiva and only worships him and would not worship Mata Parvathi.
Once the great rishi Bhringi went to Mount Kailasa and circumambulated Lord Shiva. Goddess Parvati has asked him to worship her and to circumambulate her also.
But Bhringi was refused doing that, and he concentrated his attention only on worshipping Lord Shiva. And he took the shape of a bee and again circumambulated only on Lord Shiva. Due to his act, Mata Parvati has got very angry with him and punished him to lose all the flesh and blood from his body.
Due to the curse, he has lost all his energy from his body and fell down, and then he realized his mistake, and came to know that both shiva and parvati are one and the same, and prayed to both of them and asked Mata Parvati to forgive him, and he apologised for his mistake. They blessed him and he had granted one more leg in order to balance himself.
IMPORTANCE
Bhringi was a very ancient sage and a great scholar in all the subjects, including vedas, Upanishads and other divine scriptures. He was very good in doing severe penance, and got great spiritual energy through that. His name is also mentioned in several ancient texts, and mentions him that he was a great shiva devotee.
It is believed that he lived for more than 1000 years, and had done severe penance on Lord Shiva and Goddess Parvathi towards neglecting to worship Mata Parvati, and also to reduce his sins towards his wrong act.
He was a great sage who has got the habit of welcoming his guests to his ashram and to give them food and water, to treat them with much care and respect, and to discuss with them about the greatness of Lord Shiva and Mata Parvati. He was also admired by the other great sages and was praised by them about his hospitality.
Hence from this incident, we came to know that we have to worship shiva and parvati together in order to get better results in our life.
Let us worship this great Rishi and be blessed.
"OM NAMAH SHIVAYA"
"OM SAKTHI PARA SAKTHI"
"OM SREE BHRINGI MUNIVARE NAMAHA"
WRITTEN BY
R.HARISHANKAR