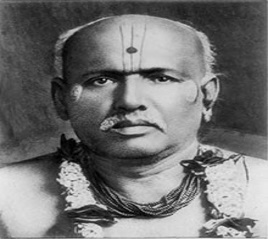 Brahmachaitanya (1845-1913) was a Hindu saint who lived in Maharashtra, India. His birth name was Ganapati.
LIFE
He was born in a village in Satara District, Maharashtra. He left his home at a younger age and visited many saints including Shri Manik Prabhu and Shri Ramakrishna Paramahamsa. After some years, he returned to his home town Kolhapur, and again after some time he went to Yehalegaon and became the disciple of the great saint Sri Tukamai, and from then onwards he was known as Sri Brahmachaitanya.
He left his body in the year 1913 in Gondavale.
Though he left his physical body, his teachings are still alive and helping the people to lead a peaceful life.
IMPORTANCE
He spent his life in teaching the importance of worshipping lord Rama to the people. He taught to love one another and to leave the material comforts. He insisted his followers to remember the god continuously in order to get happiness and peace. According to him, all the prosperity can be achieved only by praying to Lord Rama regularly without any expectation in our mind. One should always sing in praise of him and chant his name.
He showed the path of SALVATION to his devotees in India. He insisted the people to develop good habits and good behaviour in order to attain the glory of the god. He conducted Rama Bhajans regularly for the welfare of the people and to follow the spiritual path. He taught people to chant several lakhs of Rama nama japa: 'SHRI RAM JAY RAM JAY, JAY RAM'.  He told to his followers to continuously pray to the god in order to reduce the problems in our life and to reach the divine abode of the god.
He helped the poor by offering the necessities in their life, and performed annadanam, provided food to the cattle and wants the people to treat the animals with love and affection and does not harm them.
CONCLUSION
A kind hearted saint and a brilliant scholar had come to this earth for giving spiritual enlightenment to the people. He lived a holy life and treated all the people equally and helped them to his level best. He has cultivated bhakti to others, and has done a lot of social welfare activities for the people.
Let us chant his name and be blessed.
"OM SREE BRAHMA CHAITANYARE NAMAHA"
"JAI SREE RAM"
WRITTEN BY
R.HARISHANKAR