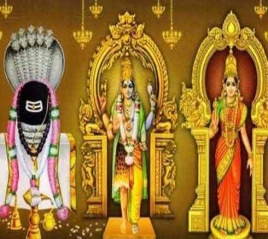 INTRODUCTION
Sankarankovil is a place where the famous Sankara Narayanan temple is located. In order to make the devotees of Vishnu and Shiva to realize that both of these gods are one and the same, Lord Shiva and Vishnu were appeared in this place as Sankaranarayanar.
It was built by the great Pandiyan king Sri Ukkira Pandiyan during the 9th century AD. The main deity of the temple is Swamy Sankara Narayanan, consisting of the appearance of both Vishnu and Shiva.
The deities found in the temple are Sri Sankareswarar, Sri Gomathi Amman and Sri Sankara Narayanar.
The holy sand of this temple cures the diseases of the devotees, and those who bath in the sacred tank of this temple, will be relieved from their past birth sins and from dreaded diseases.
The Daily Annadhanam scheme is implemented in this temple, and wholesome meals are being provided in a pleasing manner for a minimum of 100 devotees. Various puja schemes are also available in this temple. Devotees can check with the temple management and perform it as per their convenience.
It is believed, that by worshipping the divine deities in this temple, we will get better prospects in our life, and our problems will come to an end.
According to ancient legend, once, a demi god "Manikkeerivan" was cursed by Mata Parvathi. Due to that, he reached earth, and served as a gardener in a garden. One day he found a beautiful Sivalingam nearby the snake burrow. He immediately informed about this to Ukkira Pandiyan. The king with great devotion built the temple, and from then onwards large number of devotees are worshipping the divine deities and getting peace and prosperity in their life.
FESTIVALS
Chithhirai Bramotsava
Adi Thapasu festival
Iyppasi Thirukkalyanam festival
Theppam floating festival
IMPORTANCE
Being the temple dedicated for both shiva and Vishnu, here both vaishnavites and shaivites are worshipping the deities. The devotees are visiting this temple, in order to get good fortunes, good career prospects, marriage, good health and wealth and for peacefulness and pleasantness in life, and to attain SALVATION.
Let us visit this holy temple of Vishnu and Shiva at least once in a year and be blessed.
"OM NAMAH SHIVAYA"
"OM NAMO NARAYANA"
"OM SRI ADIPARASAKTHIYE NAMAHA"
WRITTEN BY
R.HARISHANKAR