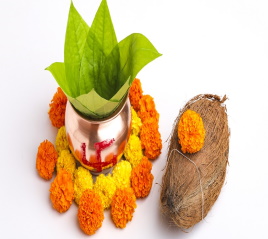 #ShubhaAkshayTritiya and it's significance.
Most of us knows that Akshay Trithiya is an auspicious day & many Hindus buy gold on this day, but there are a lot of significant events associated with this day.
◆ This is the day when Prabhu Vishnu in the form of Matsyavatar rescued the seeds from Pralaya and gave them back to Brahma to create a New Universe.
◆ This is the day when Kubera received his wealth and position as custodian of wealth. It is said that Goddess Mahalaxmi gave gold to Kubera, the God of wealth.
◆ This is the day which marks the beginning of Treta-yuga.
◆ This is the day when Guru Parashurama appeared on Earth – Parshuram is known for destroying the the kings and rulers who, over the time had completely forgotten their Kshatriya dharma and became selfish, evil, arrogant and tyrant. He arises on Akshay Tritiya. Today with so many adharmic forces active in the world, his purifying action is needed again to remove the powers of ignorance!
◆ This is the day when Devi Ganga, on request of Bhagiratha, descended from Swargalok to Prithvi to revive his deceased brothers. Hence, Maa Ganga is also known as Bhagirathi.
◆ This is the day when Sudama visited Krishna at Dwaraka and Krishna demonstrated the power of love and friendship sharing a handful of fried rice.
◆ This is the day when Pandavas received the Akshaya Patra from Surya Deva (& a Hindu organization estabilshed a foundation with that name that continues to do good work by filling hungry stomachs).
◆ This is the day when Ved Vyasa recited Mahabharata to Sri Ganesh.
◆ This is the day when Adi Sankaracharya, who revived and revitalized Hindu dharma, composed Kanakadhara Stotram.
◆ This is the day when woods for Jagannatha's chariot are brought to SriMandira and the construction of the chariots for Ratha Yatra Festival (held on Asadha Shukla Dwitiya) of Prabhu Jagannath in Puri.
◆ It is also the day when Mahalakshmi comes out of SriMandira to bless her children on this day and hence, on this day Odias indulge in buying gold and silver as a mark of Shree Sampada or Lakshmi.
◆ This is the day when deities of Madana-mohana, Govinda and Gopinath of Khira-chora Gopinatha temple (Remuna, Orissa) are smeared with sandalwood paste. (This continues for next 21 days in all Krishna/Vishnu temples and is known as "Chandan Yatra" which is carried out to protect the Lord from the scorching heat of the summer)
◆ Today is the day when the great 12th Century Sanskrit poet Jayadeba was born in Utkala and later in his life composed "Gita Govinda" which had set the Bhakti movement and established the character of Radha as corporal embodiment of Krishna's love. Poet Jayadeba was born at village Kenduli Sasana near Puri. A Sasana is a name of villages that traditionally were centers of Brahmin scholarly activity in Odisha. Jayadeb himself was a Brahmin.
Jayadeba's ashtapadis that are sung in dance performances of Odissi, the classical dance of Odisha. A majority of Odia bhajans and traditional Odissi music are based on ragas and talas specified by Jayadeba's hymns. The Gita Gobinda composed by Jayadeba is the most popular theme in the traditional patachitra paintings of Odisha.
◆ Today is the day when the Khandayata Emperor Kapilendra Deva Routray of Suryavanshi Gajapati had written a sanskrit play "Parashuram Vijaya" as a tribute to Guru Parashuram on "Parashuram Jayanti"
◆ Today is the day when the Great Hindu Warlord Chhatrapati Sambhaji was born to tread this world and fight against foreign forces.
Shubha Akshay Tritiya to all devout Hindus.