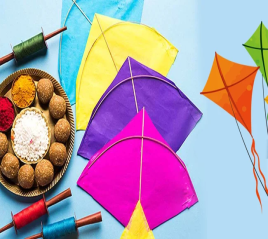 When the earth, continuing its eternal circular journey, used to get one of its poles tilted farthest away from the sun (winter solstice), the prachin Hindu culture uses to celebrate the date with grandeur, marking the first day of sun's transit to Makara (Capricorn). With due course of time over centuries, the solstice period moved away (the Earth moves into the proximate presence of each of 12 Rashis or constellations at a total interval of 365.26 days) but we still celebrate the tithi like before. It marks the end of the month. The day, known by various names across the different sub-culrue of India, is popularly known as Makara Sankranti.
On this day, people worship the Surya Deba. In Odisha, each and every Sun temple gets visitors in huge number all throughout the day- the most grand Surya worship takes place at Konark temple when the sun starts its annual swing northwards.
This day is observed with social festivities such as colorful decorations, rural children going house to house, singing and asking for treats in some areas (or pocket money), melas (fairs), dances, kite flying, bonfires and feasts.
In Odisha, people prepare Makara Chaula- made out of uncooked newly harvested rice, bana, coconut, jaggery, sesame, rasagola, khai/liaa and chhena pudding- to offer the Gods as naivedya. The change of season means longer days and new summer crops hence marking the change of food habit. The various dishes that are cooked on this day are mostly Satwil in nature-
● Enduri Pitha.
● Poda Peetha.
● Chhena Poda
● Moa
The Makara Sankranti Mela- also known as Magha Mela- finds its mention in Mahabharata making it one of the oldest festival that is celebrated for more than 5000 years. In Odisha, Makara Mela are organized at:-
◆ Dhabaleswar in Cuttack.
◆ Hatakeshwar at Atri in Khordha.
◆ Makara Muni temple in Baleswar and near deities in each district of Odisha.
◆ In Puri special rituals are carried out at the temple of Lord Jagannath.
◆ In Mayurbhanj, Keonjhar, Kalahandi, Koraput and Sundargarh where the tribal population is greater, the festival is celebrated with great joy.
Besides the usual rituals, the great aspect of the day is the bondage of friendship. People of Orissa reaffirm the strength of the bond of friendship with their best friends during this occasion. The practice is called 'Makara Basma'or 'Makara Basiba'. When a person binds himself/herself with one of his/her friends in the shackles of friendship during the Makar Sankranti, he needs to ddress the other as 'Maharshad' or 'Marsad' (in case of male) or 'Makara' (female) for the rest of their lives. They don't utter each other's name. This goes on for one full year till the next Makar Sankranti. In Eastern Orissa, on many occasions, two friends feed each other 'Mahaprasad', the offering made in the famous Jagannath temple of Puri, and continue the friendship for at least one year.
Makara Sankranti is popular in different states with different name:-
● Makara Sankranti in Odisha.
● In Andhra Pradesh and Karnataka, it is a four day festival
Day 1 – Bhoghi Andhra Pradesh, Telangana and Karnataka
Day 2 – Makara Sankranti the main festival day
Day 3 – KanumaAndhra Pradesh and Telangana)
Day 4 — Mukkanuma (Andhra Pradesh and Telangana)
● Sankraati or Khichdi in Bihar & Jharkhand.
● Megha Saaji in Himachal Pradesh.
● Uttarayan in Gujarat.
● Lohri or Maghi in Punjab.
● Uttarayani in Uttarakhand.
● Bihoo in Assam.
● Poush Parbon in West Bengal.
● Shakrain in Bangladesh.
● Pongal in Kerala.
● Khichadi Sankranti in Garhwal.
● Maghe Sankranti in Nepal.
● Thai Pongal in Tamil Nadu.