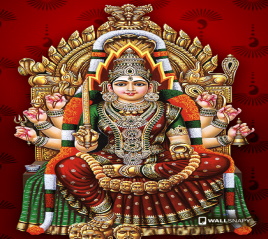 INTRODUCTION
Mariamman also known as Mariamma and Thandu Mariamman is a holy goddess of rain and mainly worshipped as a popular deity in tamil nadu. Mariamman is also associated with Mata Parvati and contains the features of Kali Devi.  Festivals for Mariammam are grandly celebrated in the tamil month of "Aadi" which is known as "Aadi Thiruvizha". She is usually worshipped for curing diseases like poxes, stomach problems and all types of dreaded diseases. She will also relieve us from mental disorders and gives us great strength and energy in order to sustain in our life.
Maariamman is also worshipped as Village deity and pujas are performed to her mostly by non-Brahmin priests. In case of Samayapuram Maariyamman temple, Pujas would be performed to amman by Brahmin priests.
Mariamman has been worshipped as a great goddess since ancient times. She is also called as "DURGA DEVI" and "SITHALA DEVI" in the north india.
She would be offered with items such as pongal and koozh during the festive season. Along with that, important rituals like fire walking, mouth piercing and homams also takes place in her temples.
Samayapuram Temple is a famous temple dedicated to Mariamman, situated near Trichy. Festivals would be grandly celebrated by the devotees during April and July – August month.
Draupadi, the wife of Pandavas, is an incarnation of Marriamman. Many temples are dedicated to her throughout tamil nadu, which is called as Panchaliamman temple and Draupadiamman temple. Among her various temples, one popular small temple is situated in Arumbakkam, near koyambedu. Here Chittirai and Aadi festivals would be celebrated in a grand manner by her devotees, and the temple authorities also offer annadanam to the devotees during festival season. Mata
"VASUKU AMMAI", the wife of the divine poet "SRI THIRUVALLUVAR" is also considered as another aspect of Maariamman who has relieved the people in her village from small pox and from several other dreaded diseases. Maariamman is also called as Muthu Maariamman, since she relieves the people from small pox, chicken pox and also brings rain in the drought regions. She is also considered as another aspect of "RENUKA DEVI", mother of Lord Parasurama and worshipped as Renuka Devi Amman in some parts of south india.
Mariamman is also believed to be the protector of the villages and the towns and cities, and she also acts as a guardian deity. Mariamman looks young, wears red dress and contains a bright appearance with a glittering face. She also gives a blessing posture in her right hand, and in other hands she holds weapons to destroy the evil forces from the world.
Mariamman is the Kula Devi for many families in the Thanjavur district of Tamil Nadu.
TEMPLES
Punainallur Mariamman Temple, near Thanjavur.
SalemKottai Sri Periya Mariamman temple
ErodeMariamman temple
KarurMariamman temple
Mariamman temple in Theni
Thiruverkadu Amman temple
Sivakasi Mariamman temple
Vellore Mariamman temple
Putthu Marriamman temple in Velacherry, Chennai.
MARIAMMAN TEMPLES OUTSIDE INDIA
IMPORTANCE
Mata Mariamman has got many temples all over the world. She is praised for her timely help and for curing the dreaded diseases within a short period of time. She is our beloved mother, who cannot be ignored by us in order to live a peaceful and happy life.
Let us visit her temples, and pray to her with sincere faith and devotion and be blessed.
"OM SREE MARIAMMAN THAYE NAMAHA"
"OM NAMAH SHIVAYA"
WRITTEN BY
R.HARISHANKAR