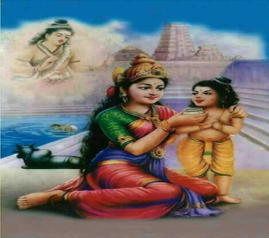 WHY MA SHAKTI DEVI IS CALLED AS THE HOLY MOTHER?
INTRODUCTION
Ma Shakti Devi is called as the holy mother, since she treats everybody as her own children. Ma Shakti Devi is the beautiful consort of Lord Shiva, and she is considered by the Hindus as the holy mother of the entire universe. Since she shows her motherly affection, she is praised as the worshipful mother, and she is worshipped all over the world by her devotees.
Even the divine devas like Indra and Chandra consider Ma Shakti Devi as their own mother, and they also would worship her regularly from their divine worlds. Ma Shakti Devi didn't find any partiality between her creations, and irrespective of caste, creed, community and religion, she used to lend her support to us like an affectionate mother. We can also tell our worries and cry before her picture, whenever we are in depressed mood.  Those who live alone can talk before her picture, and they can also find some solutions for their problems by sharing their sufferings with her. Sometimes, we might feel her presence before us, and sometimes, she might smile from her picture and might pull some flowers also, as an act of blessing. People those who have the intention to commit suicide, must remove the intention from their mind, and they must have to sincerely and faithfully worship Ma Shakti Devi for their wellness.
When we sincerely worship her and tell about our problems, definitely the holy mother would          come forward to help us. When the divine child Sambandar cried for milk, Ma Shakti Devi herself appeared before him with a golden cup filled with full of milk, and she herself had served the milk affectionately to the divine child Sambandar.
Sometimes in our lives, due to our bad karmas, we might suffer to a big extent, and even in that situation also, we have to keep on praying to the holy mother and must seek for her help. During our free time, instead of chatting with our friends and relatives through the mobile phones, we can recite Ma Shakti Devi mantras, in order to change our sufferings into happiness. Getting ourselves involved in spiritual activities is a very good task, and we must have to do it regularly. The great saints and sages like Agastiya and Adishankara have praised Ma Shakti Devi through their divine songs, and still those songs are available in the form of books as well as in the online platform.
Our life is very difficult at this Kaliyuga, and though we may think that we are safe, but at any time, any unexpected things may happen to us, and hence, we should keep the image of Ma Shakti Devi permanently on our souls, and must worship her during our each and every moment of life, and our each and every breath must chant her names and must recite her mantras, and our each and every cell must sing her songs and must sanctify her.
The great Bhakta Prahalada and Dhruva since they have involved with full of "NARAYANA BHAKTI", they have lived their life prosperously, and still now they are enjoying the divine bliss of Lord Vishnu. We cannot expect only the favourable results in our life, and some times, we might get some unfavourable results also. Human life consists of both happiness and sufferings, and we must have to take both as alike, and it can be attained only through our frequent worship on the almighty. We should always remember about one thing, and that is, only through BHAKTI, we can attain MUKTI.
"OM MA SHIVASHAKTI DEVIYE NAMAHA"
WRITTEN BY
R.HARISHANKAR