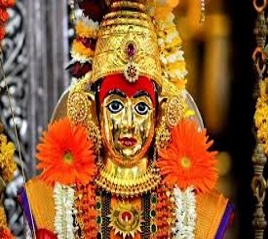 INTRODUCTION
Mahalasa Devi is a holy divine goddess. She is worshipped in two different forms. In one form, she is worshipped as Mohini, the female avatar of Lord Vishnu and is called as Mahalasa Narayani. Mahalasa Devi is also worshipped as the consort of Lord Khandoba, an incarnation of Lord Shiva, and is considered as an incarnation of Mata parvati.
Mahasala Mata's main temples are situated in Goa and worshipped by the people in the form of Mahalasa Narayani and a temple dedicated to her in Nevasa is worshipped by the people as Mahalasa Devi, wife of Kandoba, which is considered as her birthplace. She is worshipped as a Kuladevi  by the people of the region.
Mahalasa has got four hands, carrying weapons in three hands and blesses us in her right hand.
According to a famous legend, Mahalasa was born as the daughter of a merchant in Nevasa, Maharashtra. After some time, Mahalasa was married to Lord Khandoba on Pausha Pournima, and got merged with the god. Even today an annual festival is celebrated in a grand manner to honour the supreme god and the goddess at Pali in rajasthan on Pausha Pournima.
Mahalasa is also worshipped as a village deity. Mahalasa is mostly worshipped along with her consort Lord Khandoba.
TEMPLES
Temples dedicated to the holy goddess is situated in the following places of worship:
Verna
Kumta
Mudgeri
Kundapura
Basruru
Shirva
Mangaluru
Kasargod
Malpe
Her temples are also situated in Karnataka, Kerala, Gujarat, Rajasthan and Gokarna.
IMPORTANCE
Parvati being the holy mother to the entire universe takes different forms in order to worship her in different names and in different places, for the benefit of her devotees for giving peace and prosperity in their life. Though she is worshipped in different names, she is a Shakti devi and will protect her devotees by whatever name we worship.
We can worship goddess Mahalasa Devi along with Lord Kandoba in order to attain all the goodness in our life. They will remove our sins, diseases and all sorts of problems in our life. They will protect us in this earth, as well as after our death, they will help us to reach heaven. The most important thing we must remember is that we must have to worship them with utmost faith and sincere devotion in our mind.
Let us praise the glory of the god and the goddess and be blessed.
"OM MATA MAHALASA DEVIYE NAMAHA"
"OM SREE KHANDOBA SWAMIYE NAMAHA"
"OM NAMAH SHIVAYA"
WRITTEN BY
R.HARISHANKAR