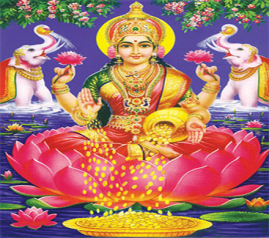 MA LAKSHMI DEVI, THE BEAUTIFUL CONSORT OF LORD VISHNU
INTRODUCTION
The divine appearance of Ma Lakshmi Devi looks very beautiful and she is considered to be the perfect match for her consort Lord Vishnu. As per legend, during the time of churning of the divine ocean, Ma Lakshmi had emerged from it. When she tried to see a best match for her, she saw Lord Vishnu, and she was very much attracted with his divine features, and hence she garlanded him, and made him as her lovely consort.
Whenever a girl looks beautiful, her well-wishers would say, "YOU LOOK VERY PRETTY SIMILAR TO MA LAKSHMI DEVI". Similar to Ma Parvati, who shows her great love on Shiva, Ma Lakshmi also is having great devotion, love and affection on her consort Lord Vishnu, and hence both of them are called as "LAKSHMINARAYANAN". Ma Lakshmi permanently dwells in the heart of Lord Vishnu, and hence she cannot be separated from him. In some temples, she can be seen seated in the lap of Lord Vishnu, and this posture is considered as very nice, and whoever gets the darshan of this posture would be blessed by the divine couple, and their married life would go on smoothly.
Ma Lakshmi Devi incarnated as Ma Sita during Lord Vishnu's Rama avatar, and in the Krishna avatar, she had incarnated as Ma Rukmini. And when Lord Vishnu had incarnated as "LORD VENKATESWARA", Ma Lakshmi also incarnated as "PADMAVATHY" and she had got married with Lord Venkateswara. "LAKSHMI KADAKSHAM", the divine blessings of Ma Lakshmi is very much necessary for everyone, since without having sufficient wealth, we could not peacefully live in this earth.
Ma Lakshmi is praised by very saints in their various stotras, and in that, she is described as the "SOWBAGHYAVATHY", the one who contains all the required features, and she is also described as "ABATHSAHAYANI", the one who protect us from dangers.  And she is also described as "KAMALAVALLI", the one who contains lotus eyes, and as "AMIRTHAVALLI", the one who gives us the divine nectar from the heaven, and as "MAHALAKSHMI", the one who contains excellent beauty.
"OM SRI LAKSHMINARAYANAYA NAMAHA"
WRITTEN BY
R.HARISHANKAR