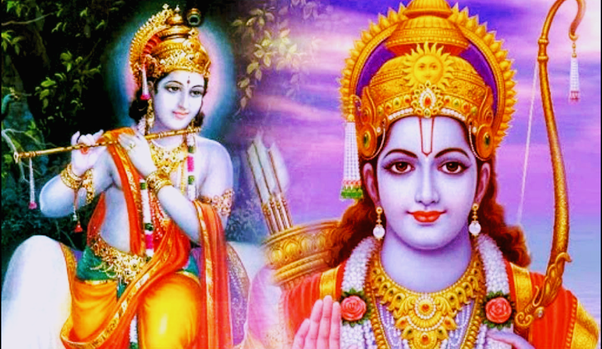 KRISHNA AND RAMA
INTRODUCTION
Both Lord Krishna and Lord Rama are considered as the favourite gods among the Hindu householders, and most of the parents would tell stories about Rama and Krishna to their children during their night time, and also during the time of eating their food. The names of the divine avatars would be recited by the Hindus regularly, whenever they get up from their bed, while taking food and even while doing their office work. People would find some sort of mental peace by uttering the names of Rama and Krishna, and they would be able to pass their daily life in a pleasant manner.
We can also learn lot of things from the life of Rama and Krishna, like their guru bhakti, patience, offering justice to the people, giving a golden rule, affection with their parents and to their people, treating everyone as equal, attending their devotees and giving their blessings and protecting them throughout their life etc.
By uttering and hearing the words of Rama and Krishna, we would feel as if the divine nectar flows in our mouths, and in our ears, and we would get a joyful experience, which we would not get anywhere else. Rama and Krishna are the most favourite gods for the small children, and they would be eager to listen to the stories from the epics Ramayana and Srimad Bhagavatham.
It is good to teach the divine scriptures like Ramayana, Mahabharata, Puranas and Bhagavatham to the young children, since they would be able to get attached with the god from their younger age itself, and also their future would become brighter.
At the present situation, lot of people are committing mistakes due to tensions and mental worries. In order to get rid from that, it is the sole duty of the parents to grow up their children in a spiritual background, in order to make them to shine and prosper in their life.
Let us chant the Rama and Krishna Mantra and be blessed.
"HARE RAMA HARE KRISHNA"
WRITTEN BY
R.HARISHANKAR