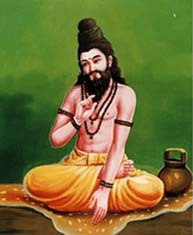 INTRODUCTION
Ramadevar is a great siddhar who occupies an important place in the Siddha Field. He was born in a Brahmin family. His guru is the great Siddhar Pulasthiyar. He attained great spiritual powers through meditation and performed many miracles.
From his younger age, he was an ardent devotee of Lord Siva and Goddess Shakthi. He lived in Nagapattinam. He regularly done pooja to Shiva Linga and worshiped the Lord daily through flowers and vilva(Bel patra) leaves and chanted shiva mantra.
He was well known for his great contribution to the Siddha Science.
He awakened his kundalini energy, and got great powers and helped the people by curing their diseases, and also relieved them from mental disorders. He performed many miracles and was praised by the people.
He attained Jeeva Samadhi at Alagar Malai in Madurai.
FAMOUS WORKS
1. Sivayogam
2. Vaithiya kaaviyam
3. Vaithiya sinthaamani
4. Sunnam
5. Sunnakaandam urai
6. Logaenthoora vaatha kaaviyam
7. Panchamitram thandagam
8. Vaithiya kalladam
9. Vaithiyam 300
IMPORTANCE
He was a great siddha purusha, who used his yogic powers for the benefit of the people. He was an expert in yoga and meditation, and also a master in all forms of art and contains thorough knowledge in divine scriptures. He contains great powers through constant meditation and through his sincere devotion on the god.
Let us worship this great siddha and be blessed.
"OM SREE RAMADEVARA NAMAHA"
"OM NAMAH SHIVAYA"
"OM MATA PARVATHI DEVIYE NAMAHA"
WRITTEN BY
R.HARISHANKAR