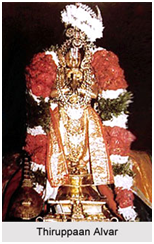 INTRODUCTION
ThiruppaanAlvar(2760 BC) is one of the twelve alvars of South India.
LIFE
As per ancient texts, he was born at Srirangam, Trichy in the musical community. He was very much attached with Sri Ranganatha Swamy of Srirangam and is believed to have merged with the deity of Lord Ranganathan.
IMPORTANCE
Similar to other alvars, he has also contributed a lot towards writing devotional works. His works include Amalanaathipiran, and some of his famous poems were included in the NalayiraDivyaPrabandam. The works of Thirupaanazhwarwas a great contribution to the Vaishnavism. In SrirangamRanganthaswamy temple, a yearly birth festival of Thiruppaanalvar is celebrated.
It is believed that he is an AMSA(Divine Form) of Srivatsam, a mark on the chest of Lord Vishnu. During his period, he will always sing in praise of Lord Vishnu in SrirangamRanganathaswamy temple.
CONCLUSION
He was a great saint, who sings the glory of Lord Vishnu. He will always be surrounded by the people to listen to his songs. He never heard any unnecessary speeches, and he never spoke about any unnecessary matters. His mind is filled only with the devotion on Lord Vishnu, and he has concentrated his full attention only on bhakti. He helped his followers towards attaining divinity. He cultivated the habit of going to temples and chanting of god's names among the people. He removed the problems of the people by worshipping Lord Vishnu. Let us pray to this great Alvar and be blessed.
"OM SREE THIRUPPAAN ALVARE NAMAHA"
"OM NAMO NARAYANAYANAMAHA"
WRITTEN BY
R.HARISHANKAR