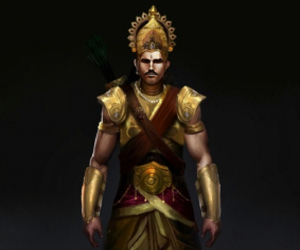 PANDALA MAHARAJA
INTRODUCTION
King Rajasekhara, who is also famously known as Pandala Maharaja, was a king of the Pandalam dynasty, and he was the foster father of Lord Ayyappan, a famous Hindu deity of Kerala. Once while he was hunting in the forest, he heard the cries of a baby near the banks of the Holy River Pamba. The King saw the beautiful child, wearing a bead in his neck. The King affectionately hugged the child, kissed it and took the child along with him to his palace, and also he came to know that the child was a divine child, after he met Rishi Agastiya at the forest.
Since the child was born with a bead, also known as Mani, King Rajasekhara named the child as Manikantan, and Manikantan received Vedic education from the gurukulam. After some years, the queen also gave birth to a son, but King Rajasekhara decided to crown Manikanta as the Prince of the region, by considering him as his elder son.
Due to that, the queen and the minister had made a cunning plan in order to chase away Manikandan from their kingdom.  The queen pretended as if she was suffering from severe stomach pain, and as per her plan, the physician had asked the king to bring the milk of a Tiger in order to cure the stomach ache of the queen. On hearing about this matter, Manikanta cheerfully agreed to go to the forest in order to procure the milk of a tiger.
In the forests, Manikanta fought with the cruel demoness Mahishi, killed her, and also he granted salvation to her. After doing that noble act, he reached the palace riding a tiger followed by a group of tigers. Everyone in the palace, including the queen and the wicked minister had realised that Manikanta was not an ordinary person, and they began to praise him, and also called him as Ayyappa. Manikanta then requested the king to construct a shrine at Sabarimala where he would permanently reside in order to safeguard his devotees in the Kaliyuga. Still Lord Ayyappa is dwelling in the temple shrine of Sabarimala and he is giving his immense blessings to all those who worships him at his shrine at Sabarimala.
Later, King Rajasekhara had also attained salvation due to the blessings of Lord Ayyappa.
"SWAMIYE SARANAM AYYAPPA"
WRITTEN BY
R.HARISHANKAR