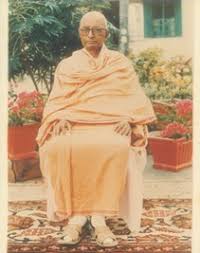 SWAMI TAPASYANANDA
INTRODUCTION
Swami Tapasyananda served as a saint in the Ramakrishna Mission, and he was a disciple of Swami Shivananda, one of the chief disciples of Sri Ramakrishna. He was a great scholar, and he has written many books in English, and also translated the Hindu scriptures in English. His translation of Bhagavata Purana had received a wide recognition, and he was praised for his wonderful work by the devotees of Sri Ramakrishna and by the general public.
He was the president of Ramakrishna Mutt, Chennai during the period: 1971 to 1991.
WORKS
Sri Ramakrishna life history
Sri Sarada Devi life history
Swami Vivekananda life history
Swami Ramakrishnananda life history
Vedanta
Lectures of Swami Vivekananda
Philosophies of Swami Vivekananda
Details about Ramakrishna Mission
Spiritual Quest
TRANSLATIONS
Srimad Bhagavata
Srimad Bhagavad Gita
Adhyatma Ramayana
Narayaneeyam
Bhakti ratnavali
Sri Vishnu Sahasranama
Sri Lalita Sahasranama
Saundarya-lahari
Sivananda Lahari
FAMOUS QUOTES
When you are in danger, roar like a lion and bravely fight with your enemies, and if you cannot defeat your enemies, then pray to the almighty, and immediately he will come to help you.
Always live like a master, and don't live like a slave.
Fear is the worst enemy of the mankind, and it will kill us. Hence do get fear for anything in your life.
Bow your head only before your parents, guru, elders and before the god, and do not bow your head before others.
Be polite and kind with others, and don't underestimate others.
Be generous and provide lot of help to the poor and the physically challenged people.
Even during your sleep, your consciousness must be there.
Believe only the great almighty, since he will never cheat you, hate you and abandon you.
Keep chanting the mantras of Lord Rama and find the great mental peacefulness in your mind.
Don't commit sins by cheating others, and always be honest and earn money only through your hard work.
Let us praise the great saint and be blessed.
"OM SRI SWAMI TAPASYANANDARE NAMAHA"
WRITTEN BY
R.HARISHANKAR