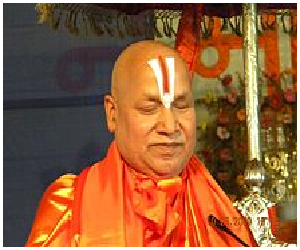 RAMBHADRACHARYA
INTRODUCTION
Swami Rambhadracharya was born in the year 1950, in a Brahmin family in Jaunpur at Uttar Pradesh, is a Spiritual Guru, and a multi-talented personality. He is a humble, noble and an able spiritual guru, and he has studied the Hindu scriptures like Bhagavatham, Bhagavat Gita and Ramayana from                                   his                       grand-father at his young age itself. He is a staunch devotee of Lord Rama, and due to that, he was given the title Rambhadracharya, and he lives in Chitrakoot, India. His birth name was Giridhar Mishra.
Rambhadracharya is the President of Tulsi Peeth, an institution formed for serving the needs of the society and for the spiritual seekers in Chitrakoot. Since he suffers from blindness from his young age itself, he started a University for the Handicapped students in Chitrakoot, and it offers degree courses only for physically challenged students.
Rambhadracharya knows lot of Indian languages, and he is a talented devotional writer, and an expert in Vedas and Sanskrit. He wrote commentaries on Ramcharitmanas and Hanuman Chalisa, and also wrote lot of devotional articles.
He is a devotee of Lord Rama and Hanuman, and he used to recite the Rama Nama from his young age itself. He also conducted religious discourses in the temples, and his programmes are also telecasted in some television channels.
Rambhadracharya expressed his opinion on the Ram Janmabhoomi  case in the Allahabad High Court, and he has cited good examples from the ancient Hindu scriptures including the Ramayana, and the sacred Vedas, and informed to the Judge that Ayodhya was the birthplace of Lord Rama, and Rama had successfully ruled the city of Ayodhya in a noble manner for several thousands of years during the Treta Yuga. On hearing his words, the Judge had got astonished and appreciated for his great involvement in spiritual matters.
During the year 2007, Rambhadracharya received life threat from terrorist groups, and due to that, he has been given adequate security arrangements by the Police department.
Still he is actively doing lot of spiritual and social service works and worshipping Lord Rama in a whole heartedly manner.
SOME OF HIS NOTABLE WORKS ARE:
Kaka Vidura
Ma Sabari
Raghavagitagunjana
Bhaktigitasudha
Aryasatakam
Ganapatisatakam
Janakikrpakataksam
Mukundasmaranam
"OM"
WRITTEN BY
R.HARISHANKAR