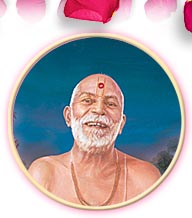 YOGIJI MAHARAJ
INTRODUCTION
Yogiji Maharaj (1892–1971) was a Hindu saint and he was the pontiff in Swami Narayan Mandir (BAPS). His birth name was Jina Vasani. Yogiji Maharaj is considered as a divine saint, who had healed the diseases of the devotees, and removed the sufferings and sorrows of the people by praying to Lord Swami Narayan. Along with with Pramukh Swami Maharaj, he was the main person in the growth of Swami Narayan Mandirs in various places and the construction of Lord Krishna temples throughout India.
Jina was born in the year 1892 in a town in Gujarat to a pious Hindu couple. He had keen interest in spirituality, and engaged his devotees also in spiritual path. He also visited many holy shrines and offered his sincere prayers to the deities.  At his young age he worked as a temple priest in a temple, and wonderfully discharged his duties.
He has become a Swami Narayan Saint in his teenage, and left his household duties, and become a full time spiritual saint. He preached the importance and teachings of Swaminarayan among the people, and lived a noble life. He also celebrated festivals in the Swami Narayan Mandirs in a grand manner, and provided free food to the devotees and kindly interacted with them.
He visited various holy places in India and invoked the bhakti in the minds of the people. He also toured to foreign countries, and formed Swami Narayan Mandirs in foreign countries also. He died in the year 1971 and his successor was Pramukh Swami Maharaj. A memorial temple was constructed in his remembrance in Gujarat, and still now lot of Krishna and Swami Narayan Devotees are visiting the holy shrine and getting their favours fulfilled.
Let us worship the great saint and be blessed.
"OM SRI YOGIJI MAHARAJ NAMAHA"
WRITTEN BY
R.HARISHANKAR