Profile
Birth name: Priyanath Karar
Born: on 10 May 1855 at Serampore, Bengal, British India
Died: on 9 March 1936 (aged 80) at Puri, Orissa, British India
Guru: Lahiri Mahasaya
Disciples: Paramahansa Yogananda and Paramhansa Hariharananda
Philosophy: Kriya Yog
Introduction
Sri Yukteswar Giri was one of the greatest modern-age spiritual teachers of Kriya Yog. Sri Yukteswar Giri rose to spiritual fame in the late 19th Century, and was also the spiritual guru of Paramahansa Yogananda, Paramahansa Hariharananda and Swami Satyananda Giri. Yogananda also revered Sri Yukteswar as 'Jnanavatar' or 'Incarnation of Wisdom'.
Sri Yukteswar Giri, also spelled Sriyukteshvar Giri and Sriyukteswar Giri, was the monastic name of Priyanath Karar who was not only a spiritual guru but also blessed with multiple qualities. He was an astronomer, an educator, a Jyotish (Vedic astrologer), a yogi, and a firm believer in the principles of Bhagavad Gita. He was an ardent disciple of Lahiri Mahasaya of Varanasi (present Benares).
Spiritual Journey
After the death of his wife, Sri Yukteswar Giri got affiliated with the renowned Giri branch of the Swami order. From that time, he spent his life in the spiritual upliftment of his soul. He was affiliated with two ashrams; one in Puri and the other one in Serampore. In his adulthood, Yukteswar was initiated by Shyama Charan Lahiri in the practice of Kriya Yoga; later his guru also authorized him with an official initiation. After his initiation he was given the name 'Sriyukteshvar Giri', where 'Sri' is not a separate honorific but a part of his name.
Sri Yukteswar dedicated his life disseminating the practice of Kriya Yoga. He was followed by thousands of disciples and was known amongst them for his great sincerity and strict discipline.
Sri Yukteswar also wrote a book, The Holy Science, which highlights the underlying similarities between the two greatest religions of all times – Hinduism and Christianity. It defines the unusual underlying harmony between various Hindu scriptures and The Bible.
He also penned down his perspective on the essence of The Bible. Unfortunately, this compilation was once given to a French gentleman for reference who never bothered to return it.
Early Life and Education
Sri Yukteswar was born in Serampore, a town in Bengal located on the bank of the River Hooghly. He was named as Priyanath Karar by his parents Kshetranath Karar (father) and Kadambini (mother). Unfortunately, Priyanath lost his father at a very tender age and started looking after the family's land holding business. In his later life, Sri Yukteswar established hermitage from the properties he inherited from his forefathers.
Priyanath was an extremely bright student and after clearing the tough entrance exam, he enrolled himself in Serampore Christian Missionary College. It was during his college days that Priyanath developed interest in The Holy Bible. Later, he translated his knowledge and ideas in his book The Holy Science which harmonizes the scientific principles fundamental to Yoga and the Bible.
As per records, Priyanath also enrolled himself in the Calcutta Medical College and studied there for almost two years. Now, there is an interesting explanation why Priyanath attended two years at Calcutta Medical College without ever gaining any degree or attempting any examination.
A particular episode led to an abrupt ending of Priyanath's College education. The episode is interesting as it also reflects on the mental set up of a man who was destined to be one of the greatest spiritual gurus of Kriya Yoga in the modern times. Once, Priyanath was attending his Physics class where his teacher was giving an explanation on human eye by comparing it with the technical functions of a photographic camera. When Priyanath didn't understand his teacher's logic on how an inverted image on the retina failed to see anything erect, he repeatedly asked his teacher for a better explanation on which his teacher got angry and asked him to leave the class. For a man of serious convictions like Priyanath, it wasn't possible to leave his stand at any cost and he left the class and the college for good. He talked about this episode with the Principal of Calcutta Medical College who allowed him to attend lectures on various scientific subjects including Chemistry, Biology, Physics, Physiology and Anatomy. He attended all the lectures seriously with full dedication to clear his concepts on various Science subjects.
His Guru
Sri Yukteswar completely engrossed himself into spiritual practices after meeting his guru Lahiri Mahasaya who initiated Sri Yukteswar into Kriya Yoga in 1884. Sri Yukteswar started practicing Kriya Yoga on a regular basis and thus attained profound spiritual realization. Later, his guru also gave Sri Yukteswar the responsibility of initiating the aspirants of Kriya Yoga. Such was the spiritual connection between the guru and the disciple that the two started spending more and more time together by indulging in all sorts of spiritual discourses. Sri Yukteswar often visited his guru in Benares.
Here is what Paramahansa Yogananda wrote about his guru's guru Lahiri Mahasaya: "As the fragrance of flowers cannot be suppressed, so Lahiri Mahasaya, quietly living as an ideal householder, could not hide his innate glory. Devotee-bees from every part of India began to seek the divine nectar of the liberated master… The harmoniously balanced life of the great householder-guru became the inspiration of thousands of men and women."
Lahiri Mahasaya is revered as a Yogavatar or Incarnation of Yoga, as he represented the highest apotheoses of Yoga, a state of complete union with the Supreme Divine Being.
It should be noted that when Sri Yukteswar first met his guru's guru Mahavatar Babaji during the Kumbha Mela in Allahabad, Babaji insisted on him writing a text on underlying harmony between ancient Hindu scriptures and the Christian Bible. In their first meeting only Mahavatar Babaji bestowed upon Sri Yukteswar the honorific 'Swami' and the highly obliged Sri Yukteswar finished off writing the book in 1894, and named it Kaivalya Darsanam.
The following paragraph makes clears the view point of Sri Yukteswar regarding the role of a guru in one's life –
"Look, there is no point in blindly believing that after I touch you, you will be saved, or that a chariot from heaven will be waiting for you. Because of the guru's attainment, the sanctifying touch becomes a helper in the blossoming of Knowledge, and being respectful towards having acquired this blessing, you must yourself become a sage, and proceed on the path to elevate your Soul by applying the techniques of sadhana given by the guru. It is in the path of meditation, truthfulness, and surrendering to God that the Guru-graced sadhaka becomes successful in attaining revelation and understanding of new methods of learning."
His Ashrams and Teachings
Sri Yukteswar established his first ashram by converting his two-storey home into a spiritual abode for his disciples. He stayed there with many of his students and the place was named 'Priyadham'. Again, in the year 1903, he established his second ashram at Puri, Orissa. The ashram was named 'Kararashram'. All throughout his life, Sri Yukteswar taught his students in these two ashrams and also started his 'Sadhu Sabha' organization to spread further his teachings.
Over time, as students grew in number Sri Yukteswar also developed a proper syllabus for his school students. He included many subjects in this curriculum like Physics, Astronomy, Geography, Astrology, and Physiology. In his book, The Holy Science he has also explained the theory formulated by him after studying Science and Astronomy.
He also composed the text First Book for teaching Hindi and English languages to his Bengali students. Sri Yukteswar was an expert in Vedic Astrology and he also wrote a book on this subject. He used to prescribe relevant gemstones and bangles to his students.
Sri Yukteswar was much ahead of his times and he even showed interest in educating women, a trend which was quite uncommon in Bengal during those times. Sri Yukteswar was extremely strict as a teacher and his most known disciple Paramahansa Yogananda also attributed his strict teaching methods to the small number of students Sri Yukteswar could attract through his lifetime.
His Books
o   The Holy Science – Sri Yukteswar.
o   Kaibalya Darshanam, the Holy Science by Jnanavatar Swami Sri Yukteswar Giri.
o   The Divine Romance by Paramahansa Yogananda: Sri Yukteswar and his disciple, Paramhansa Yogananda.
o   The Essence of the Bhagavad Gita: Explained by Paramhansa Yogananda, As Remembered by His Disciple, Swami Kriyananda by Swami Kriyananda.
Message
The message of Sri Yukteswar is as follows –
"Look; there is no point in blindly believing that after I touch you, you will be saved, or that a chariot from heaven will be waiting for you. Because of the guru's attainment, the sanctifying touch becomes a helper in the blossoming of Knowledge, and being respectful towards having acquired this blessing, you must yourself become a sage, and proceed on the path to elevate your Soul by applying the techniques of Sadhana given by the guru."
His Personality
In the preface to Paramahansa Yogananda's Autobiography of a Yogi, author W.Y. Evans-Wentz has depicted his impression of the great Sri Yukteswar –
"Sri Yukteswar was of gentleman and voice, of pleasing presence, and worthy of the veneration, which his followers spontaneously accorded to him. Every person who knew him, whether of his own community or not, held him in the highest esteem. I vividly recall his tall, straight, ascetic figure, garbed in the saffron-colored garb of one who has renounced worldly quests, as he stood at the entrance of the hermitage to give me welcome. His hair was long and somewhat curly, and his face bearded. His body was muscularly firm, but slender and well-formed, and his step energetic."
Sri Yukteswar's favorite disciple Yogananda
Paramahansa Yogananda stayed with his guru for over ten years and during this period the two lived together and Yogananda learnt every nuance of Kriya Yoga and other spiritual practices from his guru. Yogananda also authored a book named Autobiography of a Yogi. In the year 1920, he went to Boston to address a religious congress on the practice of Yoga. During his stay in the U.S. he imparted his knowledge to millions of Americans. During the same year in 1920 he established Self-Realisation Fellowship, and established its international headquarters at Los Angeles in the year 1925.
There is a famous description about the holiness of Sri Yukteswar Giri as described by his disciple Paramahansa Yogananda giving his guru the highest stature as the spiritual teacher of Kriya Yoga. A few days before Yogananda attained his Maha Samadhi in the year 1952, he confronted one of his disciples about the position of Sri Yukteswar Giri in his life. A small discourse between Yogananda and his disciple is mentioned as below.
Disciple said (while seeing the picture of Sri Yukteswar Giri) – "He must have been a great man!"
To which Yogananda replied – He was not a man, he was a God!! Swami Maharaji consciously left his body when he was 81, while meditating in the lotus posture. His body is still buried in his Ashram where a shrine has been built. His grave may be visited still today." – This narration was published in 1946 in Self-Realization Fellowship which is considered a milestone in the study of Yoga for years.
Contact
57 Netaji Subhas Avenue,
Dst Hooghly,
Serampore,
West Bengal,
India
Pictures
Sri yukteshwar and Yogananda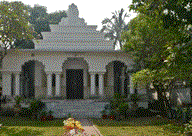 Yukteshwar ashram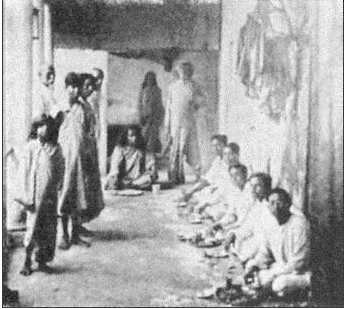 Ashram in older days
 Sri yukteshwar