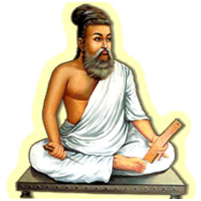 Thiruvalluvar, commonly known as Valluvar, was a popular Tamil poet. He is best known for writing the great text Thirukkuṛaḷ.
LIFE
He is believed to have lived in Madurai, and later in the town of Mylapore, and it is believed that he would have lived during 4th century BC.
Heis believed to have been born in the caste of vellalar, since he mentions the importance of agriculture in his work.
His wife name was Vasuki. And she was a very good, pious and a noble lady who took very much attention towards serving her husband Thiruvalluvar. She was an incomparable woman who possessed all the good qualities and lived a pleasant life by being a dutiful wife for her husband. She acts as an example for others.
According to ancient texts, Valluvar was left as a new-born child, nearby a Shiva temple at Mylapore. It is believed that he was raised by a Velalan couple. Valluvar and Vasuki earned a living by weaving clothes. Valluvarsubmitted his great work "THIRUKURAL" at the Pandiyan King's court at Madurai. And it was well accepted by the king, and by his ministers, and by the great scholars of his court.
In memory of Thiruvalluvar, ValluvarKottam was constructed in Chennai in 1976. There is also a 133-foot tall statue of Valluvar erected at Kanyakumari.
IMPORTANCE
Thirukural acts as a guide to the entire world. It tells the way to live in society, the things to do and not to do, and shows the importance of good things, and tells to avoid bad things in our life. If we follow the verses of Thirukural, our life will become easier, and we can correctly run our lives. It is a great treasure for the entire world, and it acts as a Holy book for all the religions and can be read by anyone since the contents are very short, very much simplified and easy to read.
CONCLUSION
Thiruvalluvar who was believed to have lived before thousands of years is still living with us through his great work "THIRUKURAL". He is considered as a divine poet and also a holy saint. He has gifted us the holy treasure thirukural, which was praised and well accepted by the people. Let us pray to this great poet and be blessed.
"OM SREE DEIVA PULAVAR THIRUVALLUVARE NAMAHA"
"OM SREE VASUKI THAYE NAMAHA"
WRITTEN BY
R.HARISHANKAR