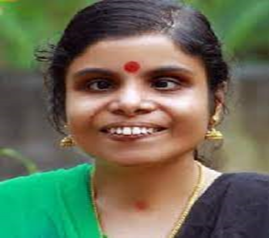 VAIKOM VIJAYALAKSHMI
INTRODUCTION
Vaikom Vijayalakshmi is a famous playback singer who hails from Kerala. She was born at Vaikom in the year 1981 and later she and her family shifted their place to Chennai.
She is highly talented in performing vocal music concerts, and she has sung both film as well as devotional songs. Due to her high talents in the music field, she was well appreciated by the music lovers. Even after becoming a great popular singer, yet she didn't get pride, but remains as a gentle and a soft spoken lady. Similar to Bhakta Surdas, she has kept great devotion on Lord Krishna, and she had sung wonderful songs in praise of Lord Guruvayurappan in the Guruvayur Temple, and also she has sung songs in praise of the deities in some other temples at Kerala.
Though she suffers from blindness, the lotus eyed Lord Krishna acts as the eyes for her, and through his grace, she is able to cheerfully sing songs in praise of the almighty. Her parents are giving good co-operation to her for smoothly travelling in the music field, and through their help, she is able to peacefully do her work.
Everyone born in this earth suffers from Karma. Some may suffer a lot, while others may suffer less, but each and every one is subjected to karmic deeds, and no one can escape from that, since it is the laid down rules of the god. Though we may suffer from some handicaps in our body, yet, we have to keep concentrating our attention on the god, and we should never curse him for our own sufferings, and the great Music artist Vaikom Vijayalakshmi acts as a best example for that.
She got married with a mimicry artist during the year 2018, and their marriage took place at Vaikom Mahadeva Temple at Kerala.  Let us wish this pious woman to achieve a lot in the music field, and let us pray to the almighty in order to give a good health and a happy married life to this great lady.
She had been gifted with a good voice by the god, she used to sing songs melodiously, and she also received awards due to her good performance in the music field, and her songs are very much liked by the music lovers.
Let us sincerely worship Lord Krishna in order to gift proper eyesight to this wonderful lady, Vaikom Vijayalakshmi, and let us be blessed.
"OM SRI GURUVAYURAPPANE NAMAHA"
WRITTEN BY
R.HARISHANKAR