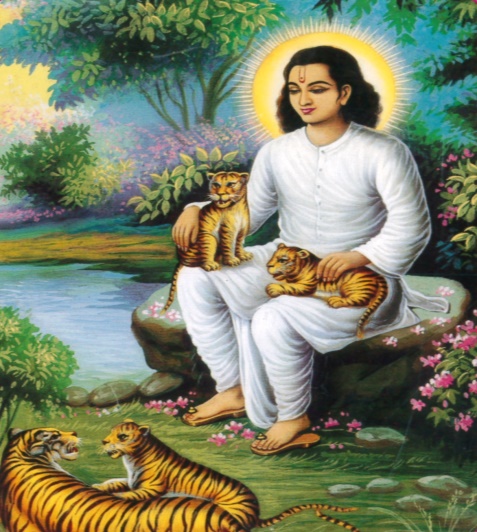 SRI CHAKRADHAR SWAMI
INTRODUCTION
Sri Chakradhar Swami (13th century AD) was one of the most important saints of the Vaishnavism tradition. Shri Chakradhar Swami was born in a city in Gujarat, in a Holy Hindu family. He gave regional discourses, and through that, he helped the people to gain more confidence in their life, and made them to travel in the spiritual path. He asked the people to follow the practice of non-violence, to feed the hungry people, and to chant the glorious names of Lord Krishna. He lived a simple life by taking alms.
He is the founder of Mahanubhava Sampradaya of Vaishnavism in the year 1267, and he is the incarnation of Sudarsana Chakra, the divine weapon of Lord Vishnu. His birth name was Kunwar Haripal Dev. At his young age itself, he was devoted with Lord Krishna, and due to that, he went to many holy temples of Lord Krishna, and spend a major portion of his life by doing meditation in the forest.
He showed his affection to all the living beings, including wild animals like tiger, lion and elephant, and he used to play with the tiger cubs, and the parents of the tiger cubs would not cause any harm to him, and they would silently surround him, and affectionately would roar at him. The wild animals would even eat greens and vegetables, if it was offered by Sri Chakradhar Swami.
Sri Chakradhar Swami's teachings were very simple, and easy to follow. He preached the importance of worshipping Lord Krishna, and he advocated "SRI KRISHNA BHAKTI" amongst the people, and asked them to regularly read "Bhagavatham" and "Bhagavat Gita", in order to realize the greatness of Lord Krishna. He was against caste discrimination, and asked the people to worship Lord Krishna in order to get out from their depression, and to get more mental relaxation.
HIS MAIN TEACHINGS ARE:
Forget thinking about your physical body, instead of that invoke the spiritual thoughts in your soul.
Keep singing divine songs on Krishna, and worship Krishna from your heart.
Get yourself addicted with the thoughts of Lord Krishna, and become a sincere devotee of Krishna.
Show your love and affection with all the living beings in the earth, since in each and every living being's soul, Lord Krishna is residing.
Remove the sufferings from your mind, and have faith on Krishna, in order to change your destiny.
Nothing would come with you after your death, except your "KRISHNA BHAKTI".
Dedicate your entire attention towards worshipping Lord Krishna, in order to merge with him.
Let us worship the great saint and be blessed.
"OM SRI CHAKRADHAR SWAMI NAMAHA"
"JAI KRISHNA"
WRITTEN BY
R.HARISHANKAR