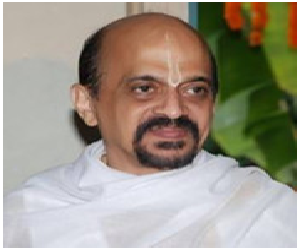 VIDYABHUSHANA
INTRODUCTION
Vidyabhushana was born in the year 1952, and he is a native of Karnataka. He is a famous divine singer, and sung lot of songs on Lord Krishna and other deities. He also sang many songs on Guru Raghavendra Swamigal. He is an ardent devotee of Lord Vishnu, and he has travelled throughout the world and contributed a lot in the divine field. His songs would melt the hearts of the listeners, and by listening to his songs, even the non-believers of god, would become great devotees.
He sang songs mainly in Kannada and Tulu and he is travelling in the spiritual path for more than 40 years, and still he is going strong day by day. He received the Sangeetha Vidya Nidhi award and also received a Doctorate at Hampi University. From his young age itself, Sri Vidyabhushana was keen in learning music and he learnt music from famous scholars. He has started a trust in the name, "Bhakti Bharathi Prathistana", and through the trust he performs musical programs during auspicious festival days. He lives in Bangalore with his family. Before his marriage, for some time, he served as the pontiff of Subrahmanya Mutt.
His songs on Ahobilam Narasimha are excellent, and it can be watched in YouTube channel. Those who are not familiar with Kannada are also interestingly watches his songs, due to his sweet voice.
Though he contains lot of talents, he is a man of simplicity, and gives respect to everyone without discrimination to their age, sex, gender and religion. Being a sincere devotee of Guru Raghavendra, his songs on Guru Raghavendra would be like pouring the sweet honey in the ears of the listeners, and they would get more bhakti on Guru Raghavendra. He has also got good knowledge in Vedic subjects, and he has visited many temples throughout the world.
"OM"
WRITTEN BY
R.HARISHANKAR