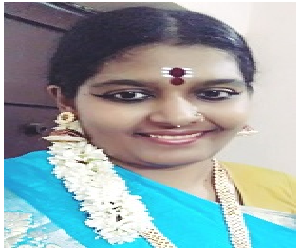 AMMAN ARUL SELVI BOOMIJA RAMAIYER
INTRODUCTION
Amman Arul Selvi Boomija Ramaiyer is the daughter of Ramaiyer and Jayanthi and her native place is Madurai, and presently she is living in Madurai along with her parents. From her young age onwards, she has been doing divine music concerts along with her mother Jayanthi. Boomija's spiritual guru is Jagadguru Badari Shankaracharya Sri Sri Krishnananda Teertha Mahaswamigal, Sri Vidya Peetam, Shakatapuram at Karnataka.
She got talents in singing divine songs and also she is an expert in Bharatanatyam dance. Due to her talents, she received lot of prizes and awards from Kundrakudi Adigal, Sri Kamalatmananda, Swamiji of Sri Ramakrishna Mission, district collectors and Tamil Nadu government ministers. She also received Yuvakala Bharati award and Young Music artist award. In appreciation of her talents, Tamil Association of Madurai had gifted a Harmonium instrument box to her, and she considers that as a very valuable gift.
She has performed music and art programmes in Madurai Radio Station, and currently she is giving divine lectures in the Madurai Radio station. She also wrote Sahasranamam on Rajarajeswari Amman, Karnataka.
She wrote hundreds of bhakti songs in Tamil and Sanskrit and she also wrote a text, based on the Valmiki Ramayanam, and named it as "SRI RAMAYANA GEETHAM", and she wrote a divine text, "ADISAKTHI ANTHATHI", in praise of Mata Shakti Devi.
She has been doing divine discourses in the temples for the past three years, and she is specialized in giving explanations from Puranas, Ithihasas and about spiritual matters, and also clarifies the doubts of the viewers.
From March 2020 onwards, she has been giving divine discourses in the YouTube channel. She is explaining the divine details in a simple manner with her sweet voice, and even a layman can easily understand her lectures. By listening to her discourses, we would get peace of mind, and we would get great interest in spirituality.
Boomija Ramaiyer can be contacted in her mobile no.9486116043.
Let us sincerely appreciate the talents of Amman Arul Selvi Boomija Ramaiyer, and let us worship the great almighty to shower his entire grace on her.
"OM"
WRITTEN BY
R.HARISHANKAR