History:
The folk word utterly describes the fundamental persona and a lifestyle of people who fostered a certain type of culture. Celebrating their smallest victories and reacting accordingly, the folk music is more of storytelling just than music.  And India undoubtedly and certainly won over diversity and cultural spectrum. The Folk Music is presiding from history and with the history and moving with it from years and years. The Vedas and Puranas have the evidence of Indian Folk Music in its stories. Underlying the facts of ancient Gods and Avatars, this music molded those uncertain corners which were generally denoted as myths. The critical society and its vivid way of communication generally highlighted the situations and circumstances which were not very popular in public talks. Entertainment was another scope, through which the societies and people came together, and hence storytelling became more effective.
Later humans understood that basic need for recreation, where devotion and scriptures played an important role. Passing on the information or passing on the tradition to the other culture, merging these two to recreate another, folk music has come across a civilization of development and change for good. Another major role was in the festivals an events, Folk Music has become the theme for the celebration, whether it childbirth or a wedding.
Diversity and Variation of Folk Music:
Due to the huge drift of culture in India, each origin has created unique styles and variations of Folk Music. Throughout the years the Indian folk music educated the world about a great history we share. And history always makes a great present if it's bound by the inspirations. Moreover giving an example, then Rabindra Nath Tagore has given this society which was hidden in his stories and his folk music. Issues like women empowerment, political point of views and substantial nature of human society, the rich heritage of Bengal is mortgaged by Rabindra Sangeet and his work of art. Giving a socio-religious perspective the improvement was blind and unknowingly bound by the Folk stance. Representing themselves in their own driven nature, the local communities got a chance of while to reciprocate the change.
With the accordance of time, the nature of folk music has become inherent. It is a process of one community growing up with their given music; in this case even a child will be well versed by music without any substantial technicality. That is how in villages the process of exporting the music across was natural, can be called a time driven Osmosis.
According to Indian states and different culture, Folk Music is divided into the following types:
Naatupura Paadalgal:
Based on the theme of local classical twist, Naatupura Paadalgal is originated in South India, Tamil Nadu. IIayaraja musical gem of South India has established a separate respected for this form of music style. The folk music has lost its significance due to modernization in music but somewhere down the line the local people still kept it intact. Knowing that their culture serves the main role in their lifestyle. Generally, this is practiced during harvesting and farming purposes, hence an overall celebration of their community.
Kummi Paatu:
Another fusion of dance and music, Kummi Paatu is yet another folklore performed in Tamil Nadu. There is a series of folk songs accompanied by the Kummi and Kummi Aattam dance form. The main purpose of  Kummi Paatu is a celebration and is commonly performed during festivals and their local rituals. All this process is bound by the traditional folk instruments made by their localities to give it a certain type of rhythm.
Surma:
A beautiful local folk tradition from Jammu and Kashmir. This music is sung in their local language which is Dogri. The purpose behind this is serving and narrating the anxiety and pain of a woman whose husband is a soldier or serving in the army. With the help of some organ instruments like flute and tabla, this melancholy becomes the most beautiful form of folk music.
Music of the Bauls:
During the 18th and 19th century, a group of musicians in Bengal traveled across the whole region and spread folk music. While traveling they have sung many folk songs which showed some religious beliefs. These people were in search of enlightenment and the eternal truth of life generally used the instruments like ektara, dotara or sarangi while singing.
Rabindra Sangeet:
Majorly known as Tagore Songs, Rabindra Nath Tagore has contributed a big way in folk music. Over his lifetime he wrote over 2230 folk songs and composed them too. Through his music, he depicted the unheard stories and incidents of the lifestyle of people who lived in West Bengal. Pure Bengali culture and no religious boundaries, his work was and is liberating. The themes and destinies in his music included modernism, humanism, structuralism, reflection, romance, introspection, psychology, nostalgia, yearning. All his works are preserved in his famous titled book "Gitabitan" which is divided into seven aspects majorly covers- worship, seasons, love, occasion-specific, patriotism, lyrical plays, and several other themes.
Pandavani: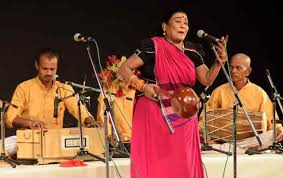 Inspired by the heroic characters of Mahabharata, Pandavni narrates the ancient tales in the form of folk music. Although not very much appreciated by the Young generation but this still performed in the major parts of Chhattisgarh, Orissa, Madhya Pradesh, and Andhra Pradesh. Presenting one the major character of Mahabharata, Bheema the narration goes brave and interesting. Many music instruments like  Manjira, Harmonium, Dholak, and Tabla are used while performing Pandavani.
Lavani
The famous folk music associated with dance from Maharashtra is now world famous. The main purpose of this performance was to serve and entertain the soldiers, which is now being placed in every festival and local celebration of Maharashtra. A group of young girls performs it together with sensual and erotic movements, using all rhythm and consistency.
Bihugeet
With the theme of love, relationships, nature, social messages, and humorous stories the Bihugeet is performed during Bihu festival in Assam. A group of young girls and boys gives a joyous performance narrating many stories and tales.
Panihari
The famous folk music of Rajasthan, narrated by the women and girls to show the importance of water. This form of folk music is luscious and also with the stringed instruments, the whole scene becomes very joyous and beautiful.
Garba and Dandiya
The famous Gujarati festival in which many folk songs, dance, and music are performed in a group of people. Instruments like Dholak, Tabla and Harmonium are used. In Dandiya, props of dandiya are used while dancing hence the celebration lasts for nine to eight days during Navaratra time.
Conclusion:
Many religious and less famous folklores and folk music is performed and practiced across the country. This united the community and some of them also helps to resolve the social issues. Folk Music is the soul of India and serving a great purpose in the lives of people. Celebration, Joy, and understanding bring them all together for a greater future and history to share from generation to generation.