Introduction
In the Sathya Yuga there was a great King named Kaushika who was brave and fearless. Kaushika would travel the length and breadth of his kingdom to look after his people. He would personally take note of all their problems and try to solve them as soon as possible. Once when Kaushika was travelling through a forest he came across a beautiful hermitage. On further enquiries he learnt that it was the ashram of Sage Vasishta. He immediately entered to pay his respects to the great sage. Vasishta was very happy and requested the King and his army to accept his hospitality and have his food there. King Kaushika did not wish to put the sage in difficulty by feeding such big numbers and politely declined. But the sage insisted and asked them to go to the river and wash themselves. By the time they returned Sage Vasishta served them with tasty and wholesome food.
The miracle cow
King Kaushika was greatly surprised as to how the sage had been able to feed sufficiently so many numbers. Finally unable to contain his curiosity he asked the sage. Sage Vasishta smiled and explained to him that he had a cow named Nandini which was the daughter of the divine cow Kamadhenu which had come out when the churning of the ocean had taken place. Lord Indra had gifted him Nandini and from that time onwards there was no dearth in the supply of food. Awestricken, Kaushika asked Vasishta if he could see the cow. The sage then took Kaushika to the back of his ashrama where the cow was serenely grazing. It looked divine and a wonderful aura emanated from it. The sage said that everyone in the ashrama loved and worshipped it and it was like a daughter to him.
King Kaushika's wish
King Kaushika left the ashrama in a disturbed frame of mind. He felt that such a divine cow should belong to a King like him as his need was greater than the sage. He went back inside the hermitage and confronted Sage Vasishta. He informed the sage that as he had a large kingdom and treated his subjects as his children the cow would be more fitting to belong to him and live in his palace. But Sage Vasishta refused to listen to him. He said that the cow was like a family member and he could not give it away. King Kaushika was very angry and felt that he would have to take away the cow by force as his need for the cow was far greater than that of the sage. He warned the sage that he would take away the cow by force as he had a large army. But sage Vasishta refused to listen. Instead he closed his eyes and by the power of his mantra a huge army appeared in front of the ashrama protecting it. The battle commenced. Soon the King's army was thoroughly routed and the warriors from Sage Vasishta's army bound the King and took him prisoner in front of Sage Vasishta. Sage Vasishta agreed to pardon the King as he had acted through ignorance. He asked him never to challenge the powers of meditation which were far superior to strength and brute force.
Kaushika and Menaka
Suddenly a great change came across King Kaushika. He realised that the powers and greatness of a sage were far greater than that of a King. He immediately gave up his Kingdom and decided to undertake rigorous penances to become a sage greater than Sage Vasishta. Slowly his meditations became more and more severe till Indra the Lord of the Heavens began to get worried. He felt that Kaushika having been a King may become so powerful that he may wish to dethrone Indra. He then called one of the celestial apsaras Menaka to use her beauty to destroy his penance. Menaka reluctantly agreed but when she went to the wild forest where Kaushika was meditating and saw him she immediately fell in love with him. She transformed the forest into a beautiful garden and began to dance to attract him. Soon Kaushika opened his eyes and was deeply entranced by Menaka. He asked her to marry him and Menaka was overjoyed. Soon they had a daughter named Shakuntala. Both of them lived a happy blissful life. But Menaka was deeply unhappy inside as she felt responsible for destroying his powers of penance.
The Truth
Finally after ten years of blissful wedded life she confessed to the truth of her attracting him though she said that she really loved him. Kaushika was filled with anguish. He realised that though she loved him all his years of penance and meditations had been reduced to dust. He then cursed her that she would always be separated from him. Anguished and heartbroken Menaka returned to Indra's court. Though Kaushika loved her he knew he had to regain his earlier status and with determination and fortitude he turned to his daughter whom he loved dearly. He recollected that his friend Sage Kanva wished to adopt Shakuntala earlier but he had refused. Now he took the child to him and after completing the ceremonies of adoption and handing over Shakuntala he left the place. He went to the Himalayas and this time his meditations were much more difficult as he missed his wife and daughter. But he was determined to regain his lost stature.
Indra's ploy
Meanwhile Indra was again becoming uneasy at Kaushika's growing powers. He knew he could not send Menaka this time so persuaded Rambha another beautiful celestial apsara to disturb him. Rambha was apprehensive but Indra was determined and having no choice Rambha went on her mission. She began to entice Kaushika and when Kaushika opened his eyes this time he was very angry. Using his powers of meditation he divined Indra's intentions. He then cursed Rambha to become a rock for ten thousand years. Immediately on seeing her transformed to a rock Kaushika was filled with remorse. He had first broken his meditation with love and now with anger. This meant that he was still not in control of his senses. Unless he mastered himself people and situations would always be blocking his progress. Thinking thus he gave up eating, drinking and breathing and this time continued with total focus and intensity. Nothing else existed for him except Brahman. Indra now was really worried as none of the other Apsaras dared to interfere in Kaushika's meditations. Indra even came disguised as a hungry man to test him and provoke his anger but Kaushika gladly gave away his humble partakings.
King Trishanku
Meanwhile there was a great friend of Kaushika named King Trishanku of the Ikshvaku dynasty. When Kaushika had left his kingdom and entered the forests there was a great famine in his kingdom and it was King Trishanku who had looked after the kingdom and Kaushika never forgot his gesture and wished to repay him in some manner. Trishanku's guru was Sage Vasishta.
Trishanku's Dilemma
One day Trishanku who had a very good looking body wondered what would happen after death as he wished to retain his handsome body even then. He went to his guru Sage Vasishta and requested for a solution. Sage Vasishta explained to him about the eternal Brahman and the ever perishable body but Trishanku was not convinced. He went away dejectedly. On the way he came across the hermitage where the hundred sons of Sage Vasishta lived. He requested them to perform a yagna to make his desire possible. But the sons had divined that their father Vasishta had already advised him. They were angered that inspite of that he was trying to change their minds. So they cursed him to become ugly and deformed. Trishanku was heartbroken. He was appalled to see his ugly and deformed body. Stumbling and falling he reached the ashram of Kaushika. Kaushika ran to greet his dear friend and after hearing his woes promised to help him. He decided to conduct a yagna and invited all the other sages. Only Vasishta and his hundred sons refused to attend. With Kaushika's powers Trishanku rose up to the heavens in his own form. Meanwhile Indra came and saw the phenomenon and was shocked. Catching hold of Trishanku he shouted at him for breaking the laws of nature and hurled him back towards the earth. Trishanku began falling and shouted to Kaushika to help him. With his powers Kaushika suspended Trishanku in mid air and created his own world and heaven there. After Indra and Brahma pleaded with Kaushika not to disturb the balance of nature Kaushika agreed to keep him suspended upside down and to rule only within his own sphere. Everyone reluctantly agreed to this situation.
Kaushika's enlightenment
Kaushika now realised that he had depleted all his powers.  He again continued his meditations and earned the title Rajarishi from Brahma. He then went to ashrama of Sage Vasishta. Sage Vasishta insulted him that for all his powers he was only a thief who wished to steal his cow. Hearing these words a great change came over Kaushika. He realised how foolish he had been to hanker after the cow. Instead of getting angry at Sage Vasishta's words he felt a great calmness descend over him. At last he realised that he had mastered and was in complete control of his emotions.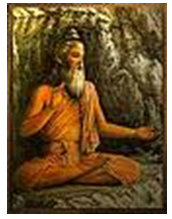 Sage Vasishta looked at him with great respect and reverence. He conferred on him the title of Brahmarishi and acclaimed that he was proud to consider him, his friend. Since Kaushika had helped everyone who came to him for succour Vasishta said that henceforth he would be referred to as Vishwamitra or 'friend of the universe'. Waves of peace and joy engulfed Kaushika as both Kaushika now known as Vishwamitra and Vasishta bowed to each other.
Conclusion
Indian mythology is replete with stories which convey maxims, rules and subtle truths to guide man in his daily life. They are passed on from generation to generation and are one of the richest elements of Indian culture. These stories help to inculcate interest in human values and each story contains powerful messages on how to conduct oneself in life and move forward onto the Godward path of truth and bliss.
References
Published On: 08-11-2014
(Others): 
Wikipedia.com
Kidsgen.com
Hindumythologyforgennext.blogspot.in