Introduction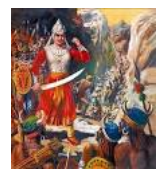 The pages of history have shown that along with powerful men who changed the course of history there were a number of powerful women too who shone as a fiery path blazer for countless women in their journey of trials and tribulations. One such woman in the history of India was Rani Durgavati of the famous Rajput Chandel dynasty which ruled the Bundelkhand region of central India between the 9th and 13th centuries. One of the earlier Chandel Kings was the famous Vidyadhar Rao who defeated Mahmud of Ghazni when he first invaded India in the twelfth century. The famous Khajuraho temples were built by this dynasty.
Birth and Early Life
Rani Durgavati was born in the year 1524 at Banda Uttar Pradesh in the fort of Kalanjar. Her father was the Chandel ruler Raja Keerat Rai and her mother was the daughter of the famous Rajput King Maharana Sangha. From a very young age she was well versed in horse riding, sword fighting and archery.
Marriage and later life
She soon grew up to be a brave and beautiful woman and in order to strengthen the dynasty her father got her married to Dalpat Shah who was the eldest son of King Sangram Singh of the Gond dynasty. According to legends she had many suitors but Dalpat Shah was greatly attracted by her courage and beauty but being of a lower caste was not at first granted permission. When he was persistent he challenged her father in battle and won her hand. Some other legends state that her father agreed after Dalpat Shah helped him in a battle against another enemy. This resulted in the alliance of the Chandel and Gond dynasties proving beneficial especially during the invasion of Shershah Suri. Soon she gave birth to a son who was named Vir Narayan. After a few years her husband Dalpat Shah passed away but as her son was too young at that time she took over the throne helped by her dedicated and loyal ministers.
Rani Durgavati's rule
>
Rani Durgavati proved to be an effective and capable ruler. She moved her capital to a more strategic fort location as this fort in the Satpura hill ranges was located among hills and ravines which made it a formidable place of defence. She extended her territory and unified politically Garha-Katanga also called Gondwana with courage and tact. She was a liberal patron of learning and managed a large and well equipped army. Trade flourished and the kingdom became prosperous under her able rule.
Situation prevalent at that time
Shershah Suri was the Emperor of the Afghan lineage who began expanding his kingdom and took control of the Mughal Empire. He was a brilliant strategist and an able administrator and laid the foundation of the Mughal rule in India. On his death the kingdom was taken over by his appointee Sujat Khan whose son Baz Bahadur ascended the throne after his death. Baz Bahadur attacked the kingdom of Rani Durgavati but to his dismay she proved to be very powerful and defeated him bringing her name and fame. Later Akbar defeated Baz Bahadur and attracted by the wealth of her kingdom another ambitious Mughal General taking the permission of Akbar attacked her kingdom. Inspite of facing the huge Mughal army with their modern weapons and sophisticated warfare she fought bravely and came out victorious in battle. Later the Mughal army enraged by this defeat challenged her in battle once again but this time inspite of her brave son too fighting in the war she could not win against the might of the strong Mughal forces and lost her brave generals in battle. She and her son were both injured in the battlefield.
Death and Samadhi
Fearing that she would be captured by the enemy and to save herself from ignominy and dishonour she is said to have taken her own life. This was in the year 1564 and the place she fell in the narrow region in the hills between Mandla and Jabalpur is still held in reverence by the people who place white crystals as votive offerings.

A memorial and museum are built in her honour in Jabalpur Madhya Pradesh. A stone replica of Goddess Durga has been constructed to represent her pride and valour.
Honour
The Government of India issued a postage stamp in her honour and renamed the University of Jabalpur as Rani Durgavati Vishvavidyalaya. Ballad singers and bards sing songs in praise of her heroism and courage. A number of parks and roads have been named after her.
Conclusion
Rani Durgavati was a symbol of self sacrifice and martyrdom. She respected and extended her patronage to scholars, saints and intellectuals. She took up various welfare and charitable activities and to facilitate the irrigation of crops she built a number of reservoirs. She valued self respect and honour more than life itself. Her name is firmly entrenched in the history of great women of India and provides a source of inspiration for generations to come.
References
Published On: 16-02-2015
(Others): 
Wikipedia.com
Hindujagruti.org
Hinduhistory.info
Books.google.co.in
orbat.com
Vsna.org
The bravesandsmarts.com
Importantindia.com
Sanskritimagazine.com