Profile
Under the guidance of His Holiness Swami Chinmayananda, devotees formed the nucleus of a spiritual renaissance movement that now encompasses a wide range of spiritual, educational, and charitable activities, ennobling the lives of thousands in India and worldwide.
Presently headed by His Holiness Swami Tejomayananda, the Mission is administered by Central Chinmaya Mission Trust (CCMT) in Mumbai, India. Under Swami Tejomayananda's guidance, the Mission has continued mushrooming across the universe and stands today with over 300 centre worldwide.
About Chinmayananda Mission
In December 1951 in Pune, India, the great Saint and Master, Swami Chinmayananda delivered his first public address on Vedanta. That was the start of the dynamic 'Chinmaya Movement', which aimed at spreading the man-making knowledge of Vedanta to all corners of India and the world. Chinmaya Mission was formed in 1953 by devotees of Swami Chinmayananda to give organisational structure and cohesiveness to the work and the activities being initiated by Swami Chinmayananda.
Vision Statement
The inner transformation of individuals through knowledge of Vedanta, spiritual practices and service to society, resulting in a happy world around them
Mission Statement
To provide to individuals from any background, the wisdom of Vedanta and the practical means for spiritual growth and happiness, enabling them to become positive contributors to society.
Mission Motto
To give maximum happiness to the maximum number for the maximum time is our religion.
What does Chinmaya Mission teach?
Advaita Vedanta
Following the Vedic teacher-student tradition (guru-shishya parampara), Chinmaya Mission makes available the ageless wisdom of Advaita Vedanta, the knowledge of Universal Oneness, and provides the tools to realize the wisdom in one's life. "To give maximum happiness to the maximum number for the maximum time" is the tenet that drives Mission workers to uplift humanity beyond selfish and sectarian attitudes and activities. Each person's gain is manifold: personal growth, heightened efficiency, contentment, and the ability to live with others in peace and harmony.
Vedanta, the essential core of Hinduism, is the universal science of life, relevant to all people of all backgrounds and faiths. Vedanta inspires spiritual seekers to understand their own faith better. Thus, although Chinmaya Mission is a Hindu spiritual organization, it does not seek to convert other religious practitioners.
What does Chinmaya Mission do?
Many Services, One Goal
Chinmaya Mission is a movement that continues to touch and transform all aspects of human life. As a spiritual movement that aims for inner growth at individual and collective levels, the Mission offers a wide array of Vedanta study forums for all ages, promotes Indian classical art forms, and operates numerous social service projects. To date, millions worldwide have benefitted directly or indirectly from Chinmaya Mission's numerous centres, ashrams, classes, events, services, and projects.
About Chinmaya Vidhyalaya
The Vidyalaya which took its inspiration from the noble ideas of Swami Chinmayanandaji, founder of the Chinmaya Mission Worldwide began in a small way in 1971 at Ernakulam. Janki Menon, one of Gurudev's earliest disciples was inspired to start it in an old 'Kovilakam' at Warriam Road. Since then, the school has grown from strength to strength. It now occupies a space of 7 acres of landscaped gardens and playing fields, with an Ayurveda Garden created to heal the body. It is in this ambience of restfulness and tranquility that it teaches the students to enquire, experiment and discover.
The school imparts quality education targeted at fostering all round development in students. Qualities of head, hands and heart are all emphasized so that one doesn't grow at the expense of the others. Be it in the field of academics, sports, culture or information technology our students have achieved excellence in all of them. Reaching out to those less fortunate is a corner stone of our educational philosophy which has led to a very active Interact Club under a parent Rotary Club. Steeped in Indian Culture yet eager to know of other Cultures, the students have gone to Japan as part of a Cultural Exchange troupe and England as members of the Duke of Edinburgh programme. Our Alumni has done us proud by being successful men and women in various parts of the world. They are sure that with God and Pujya Gurudev's grace Chinmaya will scale greater heights in the years to come.
Chinmaya Yuva Kendra
CHYK is a group of vibrant and dynamic youngsters working persistently to realize their purpose; marching ahead with a goal of unfolding our true-self, helping other to grow along and ultimately contributing in the progress of the country. With a healthy blend of India's rich cultural heritage, modern scientific advances and spiritual knowledge, we promise to forge ahead for the country's cause.
With the gifted and proficient guidance of our Guru's at Chinmaya Mission, we try to assimilate the ancient wisdom and put into practice with modern relevance. CHYK is a youth organization dedicated to the cause of empowering and harnessing youth potential through dynamic spirituality.
At CHYK, they conduct regular study classes for youths to spread the message of Bhagwad Gita and Upnishads. In addition to the weekly class, they conduct seminars, workshops, camps, seva days, take Balvihar classes and participate in other social activities. If schools, colleges, MNCs, PSUs and other offices are interested in organizing talks and spiritual camps based on Bhagawat Gita & Upanishads for their staff, CHYK center is pleased to undertake it.
Chinmaya Mission – Movement Statement
Life is an incessant search for ways and means to avoid unhappiness. Man's efforts are all directed to this end. This being a universal truth, how is it that man still feels agitated, unhappy, insecure and incomplete, despite the progress made in science and technology?
This paradox has been the subject of the deepest investigation in this blessed land of ours. The conclusions drawn and the experiences and the sublime vision gained are enshrined in the Immortal words of the Vedas and the Scriptures, handed down from generation to generation over the ages.
Inspired by the unique lessons learnt at the Holy feet of his Guru Sri Swami Tapovan Maharaj of Uttarkashi and impelled by selfless love for humanity, Swami Chinmayananda left the lofty heights of Gangotri in May 1951 and like mother Ganga came down the plains to share his wisdom with the masses. Soon, the ever-increasing number of devotees formed the Chinmaya Mission in 1953, the nucleus of the mighty movement of spiritual renaissance. The movement now encompasses a wide range of spiritual, educational, medical, social and charitable activities ennobling the lives of hundreds of thousands of people in India and abroad irrespective of religion, caste, color or creed.
To give maximum happiness to the maximum number for the maximum time is our religion—is the Chinmaya Mission motto. Thus, it aims at uplifting the people beyond selfish, sectarian and parochial attitudes and activities.
With the number of Chinmaya Mission Centers and activities increasing all over the country, it was felt that a formal organization should be set up to co-ordinate and channelize the activities. Thus SevaTrusts and other similar organizations were founded. To co-ordinate the activities of the various Trusts and other organizations in the Chinmaya Family, Central Chinmaya Mission Trust, was registered as a Public Charitable Trust in Mumbai. Followed by Tara Cultural Trust, Chinmaya Tapovan Trust, Delhi Chinmaya Seva Trust and other such Trusts.
Improving human behavior and attitudes, by developing an interest in the Science of Vedanta: this is the goal of Poojya Swamiji. The means is to spread the message of Vedanta to every nook and comer of the country. Teaching it to interested audiences in various foreign countries is also among Swamiji's plans. To achieve these objectives Swamiji has chalked out a package of strategies. What began as a one-man effort has now become a Movement. More and more avenues of service to the people are being explored continually.
After the Mahasamadhi of Poojya Gurudev Swami Chinmayananda on 3rd August1993, the mighty movement continues its manifold activities under the able guidance of Swami Tejomayananda, the present Head of the Mission to fulfill the vision of the Master.
About Swami Chinmayananda
There are many saints and sages in the history of India. There are also many gurus. But visionaries are only a few. Sri Swami Chinmayananda was not only the sage of modern times, not only a guru but also a great visionary, whose work touched not only India but the whole world. From time to time, the world witnesses birth of a Yuga Purusha who comes for the purpose of leading the suffering humanity to the path of Dharma. And we are the blessed ones who have had the great fortune of being under the direct guidance of this Guru Sri Chinmayananda, a great Gnani who carved for us the ideal model of Karma Yogi sweetened with endless Bhakti. Those who met him will never forget the glow of Chinmaya (Pure consciousness) that He carried around everywhere at all times.
SRI GURUBHYO NAMAHA!
Early days
Balakrishna Menon, the future Swami Chinmayananda was born on May 8, 1916 as the son of Parakutti and Kuttan Menon in Ernakulam, Kerala in the noble aristocratic family that strictly followed the Kerala traditions. Saints and sages often visited the house they all paid lots attention to Bala, predicting that he will have a great future. At an age of 5 Balan lost his mother; his father later remarried. Balan, as he was fondly called, spent his early childhood amidst a lot of love and attention amongst large extended family of cousins, uncles and aunts. He grew up as a charming and mischievous boy adored by all. Brilliant and intelligent student as he was, he used to complete his lessons easily without any effort. He loved reading, swimming and badminton. Ever ready for mischief and play, full of brilliant ideas and jokes, and great at mimicking everyone with great wit and humor, he never missed an opportunity to tease his sisters. Since early childhood he was an excellent actor ever full of dynamism a never ending source of new ideas for family and friends. Balan attended English Modern school where he also learned Malyalam and Sanskrit. Even later on as a Swami he often used to make comments and jokes in Malyalam.
It was the family tradition that the whole family gathered together for daily satsang and puja at sunset. Children also had to participate in it daily. Swamiji used to tell us: "As I was sitting there in the pooja room waiting for the Arathi which meant the end of satsang, I used to gaze at the pictures of Gods right in front of me. The one I liked the most was Lord Siva. To pass time I developed my own private game. I used to look at Lord Siva with Ganga flowing out from his matted hair, with the serpent for a head band and the crescent moon lighting his smiling compassionate eyes. Then I would shut my eyes to see whether I could see Him in my own mind, then open the eyes again and compare the picture I would do that again and again, till I got it right to the smallest detail, With practice I was able to picture Shankara with closed eyes, exactly as He was on the altar and later the picture would came readily as ordered. I used to look forward to the satsang for I enjoyed my game." This game gave him a job so sweet and pleasant that it became a habit to call upon Lord's form even later on in his life. "At the time thousands of questions used to come to my mind as to \why' and \whereof' of the whole \show' – and I had no answers till years later", adds Swamiji.
Swami ji at the time of starting the mission
Already in the 60s the results of Swami Chinmayananda's work were striking. The Chinmaya movement touched every corner of India and it was the time for Swamiji to take the principles of Vedanta out into the world. He started lecturing abroad. Year by year Mission centers were growing in numbers everywhere around the world. Mission motto is: "Give maximum happiness to the maximum of people for the maximum of time.
But Swamiji knew that simply attending the lectures and reading the books our lives will not be changed. That is why He introduced the weekly study groups and classes where newly learned ideas could be reinforced and assimilated in the mutual discussions.
Swamiji gave special attention and affection to children, for He saw them as the builders of the future. For them He organized the Bala Vihar and Yuva Kendra classes, which He called children's clubs. Those classes teach the principles of Hindu religion and culture helping the youngsters to unfold their hidden potential in the light of dynamic spirituality. Many of them have grown up as the most successful and highly cultured members of society To see them prosper Swamiji remarked, was the best Gurudakshina he ever received.
Chinmaya Mission sponsors 62 schools in India where apart from the normal school curriculum children learn the Vedic heritage. There are also nursing and management schools to provide higher education. The spreading; of the Vedantic knowledge is assured by continuous publishing and distributing Swamiji's books all over the world.
In order to have the Vedantic knowledge brought to every corner of the world and every avenue of life Swamiji started ashrams in India and America where the new teachers, brahmacharies and Swamis: of the Mission were trained according to the old guru-kula tradition. The main ashram in India are in Mumbai, and in Himalayas in Siddhabari. In America ashrams are in Piercy, San Jose, Washington, Chicago, Flint, New York state, and Florida. In His great compassion Swamiji wanted to help poor, sick and the old, that is why He started free clinics, hospitals, vocational Hari Har schools, orphanages, and old people's homes.
Unfortunately, Swamiji attained Mahasamadhi on August 3rd 1993
Swami Chinmayananda, the greatest Missionary and the visionary of the times left His bodily form in San Diego on August 3rd but His mission will continue, carried out by all of us with the zeal and love that He taught his disciples for years. His body was taken to India and buried in Siddhabari ashram, but His teachings and His achievements will live forever.
About other Swamis at Chinmaya Mission
Swami Tapovan Maharaj of Uttarkashi was the "Source" wherefrom Swami Chinmayananda (The Founder of the Chinmaya Movement) acquired the Knowledge of Vedanta (Science of Religion).
Swami Tapovan was himself the ideal who had personally understood (through deep study, dispassion and contemplation) the relationship between the biological processes of the body and the human psyche.
In a spirit of deep renunciation, the infinitely gentle poet in him, saw Humanity and Nature as one vast "plant", needing only "Love" for its highest fulfillment.
Intimate communion with Nature (while he walked peaks and valleys of the Himalayas for countless years), gave Swami Tapovan the boundless spiritual reverence. He revealed Nature's secrets in his "travelogue" in two Sanskrit masterpieces, "Himagiri Viharam" and "Kailasa Yatra".
The masterpiece, without a doubt, is "Ishwara Darshan", which is his autobiographical "sketch" – it is an absorbing account of a search for the Truth .. Its scientific clarity is subtle, because the treatise gives insight into how the saints of the East attain self mastery.
Swami Tejomayananda is fulfilling the vision that Pujya Gurudev, Swami Chinmayananda charted. As he puts it "I am not in Swamiji's shoes, I am at his feet."  He was introduced to Vedanta early in his life. Coming under the benign influence of Pujya Gurudev, H.H.Swami Chinmayananda, he learnt, absorbed and started living the message of the scriptures that his master so vociferously advocated. An accomplished and internationally recognised scholar, Vedantic knowledge for decades through lectures, Swami Tejomayananda has been spreading seminars and spiritual retreats. He has been the Acharya at Sandeepany Sadhanalaya in India and the USA.
Fluent in Sanskirt, Swamiji  is the author of original Sanskirt  compositions as well. He has written commentaries on scriptural texts, translated Swami Chinmayananda's commentaries into Hindi, and authored a number of books. A key contribution is: Hindu Culture – An Introduction, a text acclaimed for its clear description of the basics of Hinduism and adopted as a text in some American high schools. Swamiji's discourses on the Holy Geeta, Ramayana and Srimad Bhagavatam draw a huge crowd of devotees. Swami Tejomayananda excels in expounding a wide spectrum of Hindu scriptures, from Ramayana  to the Bhagvad Gita Srimad Bhagavatam and the Upanishads, the source book of Vedanta. He conducts Jnana yajnas — lecture series on Vedanta. His discourses, satsang and bhajans reveal  his knowledge has depth of wisdom.
As he moves around the world at a bewildering pace  His easy manner and devotional rendering of Vedantic texts has drawn many newcomers into the spiritual fold. His melodious voice has devotion. Extremely humane and approachable, he has never closed the doors to anyone who has sought his or advice.  His conviction is simple – to fortify, strengthen and actualise the vision of his master – that of restoring the moral and cultural dignity of our ancient heritage. He takes very keen interest in the Vedanta course at Sandeepany Sadhanalaya. He is actively participating in the selection of students, on design of course curriculum, imparting knowledge to the students on important texts, interacting with the students by periodical meetings with them and the Acharya.
Activities at Chinmaya Mission
Spreading the sublime knowledge of Vedanta – Vedanta is the core of Hindu philosophy. In fact, it is a universal science of life. A science which is relevant to all people everywhere, whatever their faith. An understanding of Vedanta would inspire people to understand their own faith (whichever it may be) better. Therefore, although Chinmaya Mission is a Hindu spiritual organisation, it does not seek to change or convert anyone's beliefs. Chinmaya Mission's stated mission is: "to provide to individuals, from any background, the wisdom of Vedanta and the practical means for spiritual growth and happiness, enabling them to become positive contributors to society".
Re-invigorating Indian culture – Chinmaya Mission is also involved in reinvigorating Indian culture in general. The Mission has forums for different age groups and for professionals, with each forum engaged in understanding and promoting Indian culture and spirituality. The Mission also organizes and promotes Indian music, dance, drama, art and literature. It also runs many temples, carries out research into Indian scriptures, traditions, rituals and languages, and has a vibrant publications division so that spiritual and cultural books, periodicals, audio tapes, video tapes and photographs may reach as many people as possible.
Doing extensive social service – Chinmaya Mission is also actively involved in social services focussing especially on disadvantaged and underprivileged people. Hundreds of thousands of people benefit from the Mission's schools, colleges, hospitals, diagnostic centres, old age homes and rural village development projects. "To give maximum happiness to the maximum number for the maximum time is our religion." This is the Mission's motto.
Courses at Chinmaya Mission
Residential Vedanta Course: The study of Vedanta is a sacred and ancient tradition, imparted in a gurukula setting. In Sanskrit 'kula' means family and 'guru' means teacher. A gurukula is a place where the students and the guru reside together and form a family. This system of constant interaction between them enables the students to learn, not only from the words of their teacher but also the teacher's daily living example. All Vedanta Institutes in Chinmaya Mission are called 'Sandeepany'. This was a name selected by Pujya Swami Chinmayananda.
Youth Empowerment Programme-YEP: Chinmaya Mission's Youth Empowerment Programme (YEP) is a value-based leadership programme for young college graduates who have a keen desire to learn Indian culture and serve India. An initiative of All-India CHYK (Chinmaya Mission's youth wing for young adults, ages 18-28 years) YEP is a one-year, work-study, residential programme that has been acclaimed throughout India. YEP empowers its participants, known as 'Yuva Veers,' to actively Learn, Serve, and Grow. YEP includes Vedantic studies, training in a variety of fieldwork, and hands-on internships-all of which are designed to promote individual inner strength and holistic transformation for a balanced lifestyle of personal growth and selfless service.
Dharma Sevak Course: Chinmaya Mission's Dharma Sevak Course is a two-week or six-week residential Vedanta course primarily for householders interested in intensive scriptural studies. Aimed at individual inner transformation, the course enables students to learn spiritual knowledge and share it with society as dedicated sevaks of dharma, for "dharmena dharyate lokah". Through each course, each covering different texts, students also develop skills to conduct Chinmaya Study Groups better. During the course, students live the disciplined life of a disciple, as one would in a gurukula (ashram for spiritual study).
Postal & E-Vedanta Courses: Pujya Gurudev Swami Chinmayananda, initiated a unique method to study the essence of Vedanta, in the form of easy lessons, without any books, at home. He specially designed this course to cater to the different types of students all over the world for the subjective development of their personality without interfering with their official, social or domestic commitments. Chinmaya International Foundation (CIF) welcomes all Vedanta students to enroll in its progressive home study Vedanta Correspondence Courses, the primary aim of which is to provide clarity and depth in a seeker's understanding of Vedantic principles. The one-year correspondence course is offered at two levels: Basic (Foundation) and Advanced. Each course covers various central Vedantic concepts, as taught in introductory texts such as Vivekachudamani, Atma Bodha, etc. Students are guided by CIF's appointed acharyas (teachers), who assess and give feedback on the answers submitted. If these courses were faithfully followed, one would gain sufficient maturity and spiritual stability leading to one's personality enfoldment.
Purohit Course: Indian culture is admired the world over for its beauty and depth. There is either a scientific or spiritual rationale for each of our traditions. Philosophy is the theoretical aspect of religion whereas rituals are the practical aspects. Selfless service, japa, puja, sandhya, etc enable an individual to develop an integrated personality. But one needs to perform these with the proper understanding and faith to bring about the desired effect. This is the vision of Pujya Gurudev Swami Chinmayananda and Swami Tejomayananda. Thus, to facilitate the performance of rituals with an understanding, Chinmaya Mission has started the Purohita Course in Chinmaya Veda Vidya Peetha in Chokkahalli, Karnataka and in Chinmaya Vaidik Vidyapeetha in Coimbatore, Tamil Nadu.
Pictures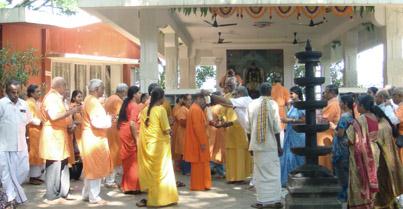 Ashram Pooja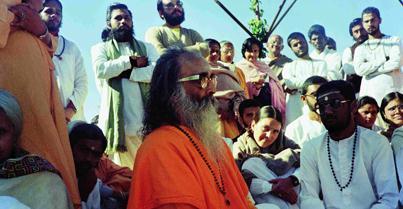 Swami Chinmayananda with his disciples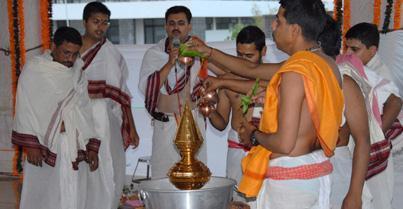 Pooja in Chinmayananda Ashram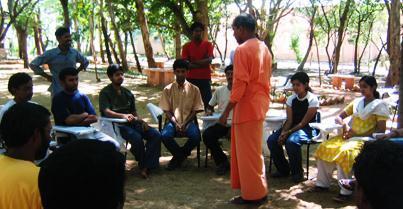 Yuva course in the ashram
Contact
Central Chinmaya Mission Trust
Sandeepany Sadhanalaya
Saki Vihar Road
Mumbai 400 072
INDIA
Ph: (+91-22) 2857 2367
Fax: (+91-22) 2857 3065
Email: ccmt@chinmayamission.com
Website: www.chinmayamission.com