Chinmaya Naada Bindu
Gurukul for Indian Performing Arts
"When students are guided by a focus on spiritual upliftment, they become the finest ambassadors of our cultural heritage."  – Swami Tejomayananda
Chinmaya Naada Bindu (CNB), was inaugurated as a Gurukul for Indian Performing Arts in 2009. A project of the Central Chinmaya Mission Trust, it was envisioned by Swami Tejomayananda to propagate the wisdom of the Vedas through the performing arts.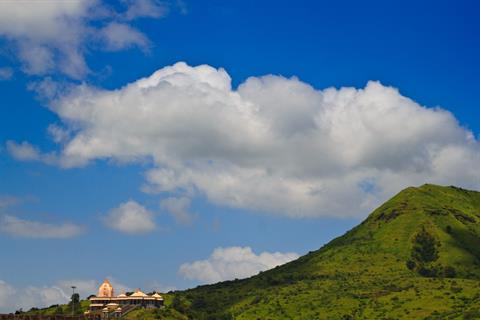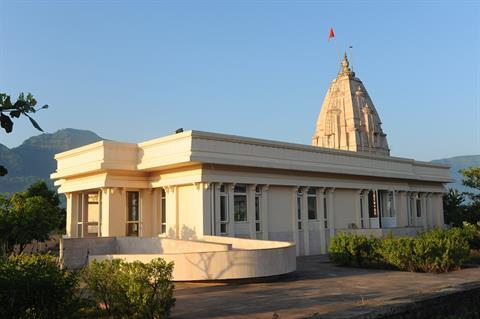 It is situated in the 65-acre campus of Chinmaya Vibhooti in the village of Kolwan near Pune, India.  Nestled amidst paddy fields and sugarcane plantations at the foothills of the Sahyadri Mountains and flanked by majestic shrines to Hanuman and Ganesha, the CNB landscape provides a sacred ambience to facilitate an enriching experience of the Arts.
Students
Students come to CNB from all over the world drawn to what it offers – a simple, serene lifestyle rooted in India's cultural and spiritual heritage. They savour a traditional Gurukul learning with one-on-one access to their teacher. Invited scholars and expert teachers add historical, philosophical and spiritual perspectives to their training. Deserving students are offered full or partial financial scholarships.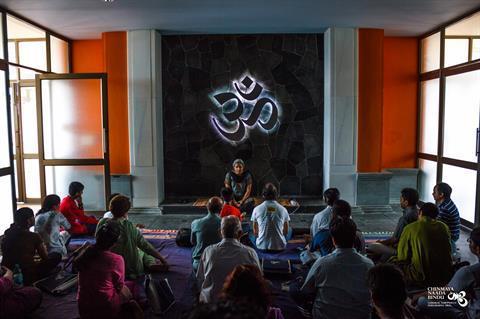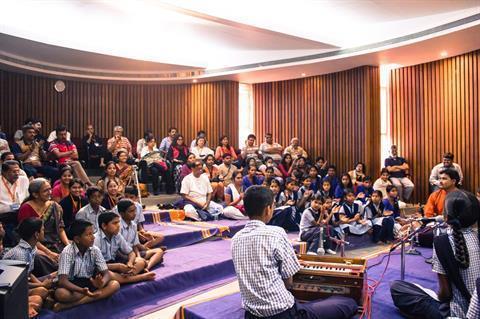 Long-term and short-term courses, residential workshops and arts-enrichment seminars happen throughout the year, it is the balanced, multi-tiered curriculum of the extended 21-day Monsoon Dance & Music Intensive held in July which has earned the reputation of being "a life changing experience." In addition, workshops on music and dance appreciation are taken to schools and corporate houses.
The motto of CNB is Svara to Isvara, Nartan to Paramatman and Geetam-Vadyam–Nrtyam to Satyam Shivam Sundaram.
Chinmaya Social Responsibility (CSR) is a special project of CNB providing free music training to talented school children in neighbouring villages.
Art-Lovers
The Naada Bindu Festival, a 3-day Performing Arts Festival-Retreat held in the 1008 capacity Sudharma auditorium, plays host to the nation's most distinguished artists. Guests live in the ashram enjoying personal interactions with the artists and experiencing the arts as a lifestyle.  Spiritual discourses and lecture-demonstrations augment the arts-experience of the audience.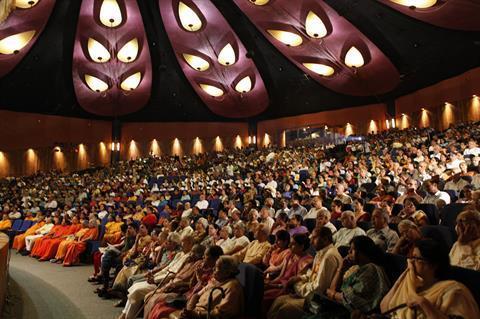 Artists
Renowned master-artists frequent the CNB campus, charmed by its spiritually-charged environment. CNB provides them a retreat-venue where they can create, rehearse or teach.  Stalwarts such as Padma-vibhushan Pt. Shivkumar Sharma regularly avail of this facility.
Looking Ahead
Equipped with residential rooms, classrooms, dance studio, auditoriums, and multi-purpose halls, CNB is amply suited to host several hundred students at one time. In addition, CNB envisions expanding its arts-habitat to include underground chilla rooms for extended undisturbed practices, outdoor amphitheatre, meditation gardens, recording studio, resource library and archival museum.
CNB aims to foster excellence in the learning, performance and appreciation of performing arts and initiate global connections among artists, scholars, students and the public.
CNB looks forward to connecting with you.
Pramodini Rao – Director
Ramaa Bharadvaj – Director, Dance
Himanshu Nanda – Director, Music
Contact:
Email: reachus@chinmayanaadabindu.org
Tel: 020 22960171 / +91 96898 89153