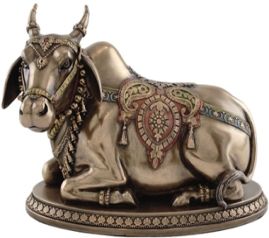 BULL IN HINDUISM
INTRODUCTION
Bull is also called as Nandi and bulls are considered as an aspect of Lord Nandikeswarar, who is considered as the sacred vehicle, divine gate keeper and the divine attendant of Lord Shiva. He is also treated like the son of Lord Shiva, similar to Vinayaka and Muruga. Lord Nandi's idol can be found before the main shrine of Lord Shiva in the temples.
Bulls are believed to be the descendants of Lord Nadhi Bhagavan, and hence are considered as the most respectable and worshipful animals in the world. Bull fight is very popular in villages, and engaging in such an activity is considered as                      a brave act, and lot of people would participate in the bull fights also known as "JALLI KATTU".
In the state of Uttar Pradesh, great respect is given to the bulls, and during the times of festivals, they would be decorated with ornaments and flowers, and would be brought before the shrine of Lord Shiva.
Bulls have to be approached properly otherwise they would tear us into pieces. We have to show our kindness and must provide them with grass, fruits, greens and vegetables etc. The famous saint Lord Basavanna of Karnataka, gave much respect to the Bull, and treated it with respect. He would worship Lord Shiva along with Lord Nandi Bhagavan. Lot of shaivite saints have praised the glory of Lord Nandi, and considered him similar to his master Lord Shiva.
Hence let us feed the bulls, and worship them, since they are considered as an aspect of Lord Nandikeswarar.
Let us worship Lord Shiva and Lord Nandi and be blessed.
"OM SRI SHIVASANKARA"
"OM SRI NANDIKESWARAYA NAMAHA"
"OM MATA BHUVANESWARIYE NAMAHA"
WRITTEN BY
R.HARISHANKAR