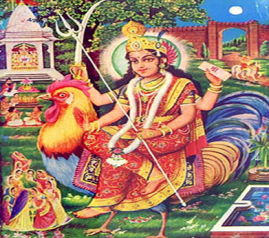 COCKS IN HINDUISM
INTRODUCTION
Cocks are worshipful birds, and they are the divine vehicle of Bahuchara Mata, goddess of chastity and fertility, an incarnation of Mata Parvati, who is mostly worshipped by the Gujarati people.
Bahuchara Mata is the mother goddess who helps the women during the times of their pregnancy, and helps them to properly deliver the child, and gives her immense blessings to the mother and the child.
According to Hindu Legend, the cock flag is the Lord Muruga's army flag. Cock is the clever bird, and used to understand the instructions of its masters, and would act accordingly. Cocks are killed for meat, and the system of killing the cocks prevails since ancient times. But it is not advisable to kill the cocks, since it contains the divine aspect of Lord Muruga and Mata Bahuchara. By killing them for meat, would make the divine deities to get angry with us, and would punish us severely. Cocks are not created for killing, and they have to be protected properly.
Let us serve the cocks with food grains and be blessed.
"OM SRI VEL MURUGANE NAMAHA"
"OM SRI BAHUCHARA MATA NAMAHA"
WRITTEN BY
R.HARISHANKAR