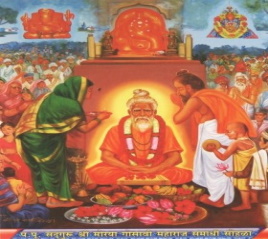 Morya Gosavi (14th century) also called as Moroba Gosavi was a popular saint and an ardent devotee of Lord Ganesha. It is believed that he was born in Bidar, Karnataka, to a noble family, and since he was lazy at his childhood, and didn't attend to the school properly, his father has sent him out from the home.
The young child wandered in the streets and had his food by taking alms, and travelled to many places and finally reached chinchwad, pune, maharashtra. And from there, he reached morgaon and visited the famous temple of Lord Ganesha, and for some time stayed in that place.
After some time, as per the orders of Lord Ganesha, he moved to chinchwad, and built a temple for Lord Ganesha, and stayed there permanently, and after several years, he attained Jeeva Samadhi at that place. And a shrine was built in his Jeeva Samadhi. It is believed that still he is hearing the prayers of his sincere devotees, and with the grace of Lord Ganesha, he is removing the obstacles from their life, and making them to be prosperous in their life.
Morya Gosavi is considered as the chief person of the Ganapatyas and has been described as the sincere devotee of Lord Ganesha. Morya is believed to have been born due to the grace of Lord Ganesha, in order to spread the importance of Lord Ganesha among the masses.
Morya's son was Chintamani, and he was considered as the incarnation of Lord Ganesha. He has shown his original form of Lord Ganesha, to many of his sincere devotees. The samadhi of Morya Gosavi and the famous Ganesha temple at Chinchwad attracts lot of devotees from all over the world.
IMPORTANCE
Morya Gosavi contains the features of Lord Ganesha, and is still blessing his devotees from his shrine. During his lifetime, he has done many miracles in the life of his devotees, and removed their sins and made them to attain spirituality and holiness in their life. He also gave several spiritual discourses to cleanse the minds of the people, and to remove their bad thoughts and bad behaviours. He is considered as a saviour who still safeguards his devotees from dangers and embraces them in his golden hands.
Let us worship the great saint and be blessed.
"OM SRI MORYA GOSAVI NAMAHA"
"OM SRI CHITHAMANI NAMAHA"
"JAI GANESA"
WRITTEN BY
R.HARISHANKAR