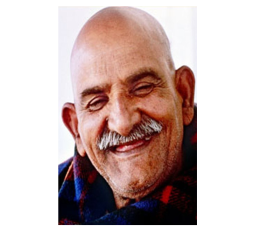 Neem Karoli Baba (1900-1973) was a Hindu guru, and a devotee of Lord Hanuman. His famous disciples are Ram Dass, Bhagavan Das and Krishna Das. His ashrams are situated in  Vrindavan, Rishikesh,  Neem Karoli village in Uttar Pradesh, and in USA. His birth name was Lakshmi Narayan Sharma.
LIFE
He was born in a village at Firozabad district, Uttar Pradesh, India, in a Brahmin family. At his younger age he became a saint. And later as per the wish of his father he married, and got three children.
He left his home in 1958. Thereafter he wandered throughout india and went to many holy places and met many saints and discussed with them about spirituality.
His ashrams are situated at Vrindavan and at Kainchi.
The Kainchi Dham ashram  was built in the year 1964 which contains Hanuman temple.
He died at the age of 73.
Subsequently, his samadhi shrine was constructed at Vrindavan ashram, which also contains some of his personal belongings.
IMPORTANCE
He was a great yoga master and an expert in meditation, and had done many charitable activities to the poor and needy such as providing food grains to them, helping for education, providing clothes and building shelters.
He was interested in chanting the mantras of Lord Rama and Lord Hanuman. He was a dedicated devotee of Lord Hanuman, and conducted regular puja and bhajans in his ashram. He asked his followers to involve in doing puja and to show utmost faith on god.
He was against caste discrimination and respected all the people as equal and considered all the people as the children of god.
He insisted the people to do good things to others, to act honestly and never to cheat others and asked them to work hard in order to earn money. He also asked the people to respect the elders and to take care of their parents.
He also cured the diseases of his devotees and gave them mental satisfaction.
Let us worship this great saint and be blessed.
"OM SREE NEEM KAROLI BABA NAMAHA"
"JAI SREE RAM"
"JAI HANUMAN"
WRITTEN BY
R.HARISHANKAR