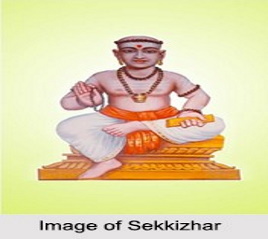 Sekkizhar was a saint and  he has written the Periya Puranam which contains the life stories of the sixty-three  Nayanmars, who are the devotees of Lord Shiva. His birth name was Arulmozhithevan.
LIFE
King  Kulothunga Chola II appointed him as his Prime Minister, on account of his knowledge in all subjects.  Sekkizhar anniversary festival is celebrated every year in the month of Vaigasi on his star Poosam.
IMPORTANCE
Sekkizhar was a great saint and a stauch devotee of Lord Shiva. His Periya Puranam was accepted by Lord Shiva. He himself is considered as equivalent to that of Nayanmars, since he contains great devotion on Lord Shiva. He has cultivated the habit of chanting shiva mantra among the shiva devotees. He took keen interest in developing the Shaivism tradition among the people. He was a great poet who received many gifts from the kings, in praise of his great knowledge in composing poems.
TEMPLES
Kundrathur Sekkizhar Temple
The Devakottai Nagara Sivan Kovil,Sivagangai district in Tamil Nadu. Here urchava moorthy is Sekkizhar.
CONCLUSION
Sekkizhar, who was a great scholar, and a noble man who lived a spiritual life, and gifted us the history of "63 Nayanmars". Let us worship this great saint, and seek his blessings, and be blessed.
"OM SREE SEKKIZHARE NAMAHA"
"OM NAMAH SHIVAYA"
WRITTEN BY
R.HARISHANKAR