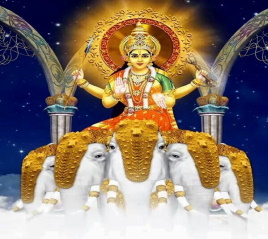 Shachi Devi also called as Indrani is the consort of the heaven king Lord Indra, and is the goddess of beauty.  She is the daughter of the Demon Puloman. She is one among the seven mother goddesses. She is described as a beautiful worshipful goddess and contains pleasing manners. She is the mother of Jayanta, Jayanti, Devasena, and Chitragupta.
She also contains the powers equivalent to that of her husband Lord Indra and having The Great Elephant Iravatha, as her Vehicle. Grand puja would be performed to Goddess Indrani during the Navratri Festival.
She is also mentioned in several vedic texts, and her importance and glory is mentioned in Hindu Scriptures, and it is believed that she will welcome the holy sages and the good ones to the heaven with great respect and takes them to her hushand Lord Indra. She contains all the good qualities similar to that of Mata Parvati, Lakshmi and Saraswati.  She shows great mercy to the living beings in the earth, and reduces the sufferings of her sincere devotees. It is also believed that with her blessings and permission only, one can enter into the heaven and enjoy all the comforts. She also gives great respect to her husband Lord Indra, and consoles him whenever war occurs between devas and demons.  In general, we can say that she cannot be compared with any other ordinary women in the entire universe. She also protects her devotees from their enemies, and gives them all sorts of happiness and peacefulness in their life.
IMPORTANCE
She shows great compassion on the living beings in the earth, and especially in this difficult period of "KALI YUGA", and makes them to relieve from their sins and helps them to enter into the path of heaven. She is also considered as a Shakti element, and contains the features of Mata Parvati Devi. Though she enjoys the heavenly comforts, still as a "UNIVERSAL MOTHER", gives her helpful hands and lift us when we are thrown out by our enemies. By worshipping Indrani, we will get the blessings of Lord Indra and all the divine devas in the heaven.
Though there are no independent temples dedicated to her for worship, there is a famous temple known as "SRI INDRANI PANCHADURGA PARAMESHWARI TEMPLE" situated at Udupi, Karnataka.  Here Goddess Indrani is worshipped in the form of Devi Durga.
By worshipping the divine mother and by doing puja and homam to her at our home by placing her framed picture, in course of time, based on our good karmic deeds, we will get a chance to reside at Indraloka and can enjoy all the pleasures and live happily.
She is also the destroyer of our sorrows and the giver of happiness. And she removes the mental and physical illness from our mind and body. She gives peacefulness and happiness and everlasting bliss to us.
Let us worship the divine mother and be blessed.
"OM SREE INDRAYA NAMAHA"
"OM SREE INDRANIYE NAMAHA"
WRITTEN BY
R.HARISHANKAR