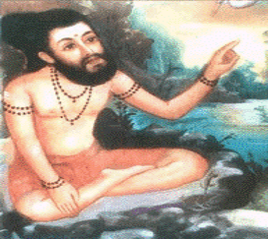 Sri Konganar was believed to have been born during the 5th century BC, and is the disciple of Boganathar, and he is one among the 18 great siddhars. He was appreciated as the best student by Bogar himself. He was born in Erode in a goldsmith family. His main works include in the field of medicine, yoga and philosophy. He left home at his younger age in order to seek spiritualism. He got knowledge in various fields through the guidance of his guru Bogar and became a knowledgeable person. He is a great worshipper of Lord Shiva.
He was very good in doing yoga and meditation and specialized in all kinds of arts and a great scholar in all spiritual subjects.
Sri Konganar is a kind hearted Guru. He has got large number of disciples and he taught all the subjects to them with much affection and care.
Once he changed an iron into gold piece, and gifted it to his siddhar friend sivavakiyar's wife, since sivavakiyar has gone outside. After his return to his home, his wife had narrated the incident, he immediately thrown out the gold piece into the well. He is such a great Siddha Purusha.
His Guru Boga has made his contributions in various fields.
After living a long life, he entered jeeva samathi at Thirupathi in Andhra Pradesh, nearby the Temple Complex of Lord Venkateswara.
IMPORTANCE
He shared his knowledge to his disciples, and asked them to help the common people. He also cured several health related problems of the people, and guided them in the spiritual path and told them about the greatness of Lord Shiva and asked them to worship him sincerely in order to attain all the prospects in their life.
Let us worship this great siddhar and be blessed.
"OM SREE KONGANARE NAMAHA"
"OM NAMAH SHIVAYA"
WRITTEN BY
R.HARISHANKAR