Introduction
Bahula Devi Shakthi Peeth is the place where Sati's left hand fell. Sati is worshipped as Bahula Devi (Bahula means Abundant) and Lord Shiva as Bhiruk or sarvasiddhidayak.
Location
Bahula devi temple is located in Ketugram village, 8 kms from Katwa, Bhardhaman or Burdwan district in West Bengal. The temple is near the banks of Ajay river. From Kolkatta the temple is about 190 kms, from Bhardhaman district, it is 56 kms. Katoa station is the nearest railway station. The temple is connected by state government run buses and private buses also. Nearest airport is from Bhardhaman.
Other places of tourist interest
Raman Bagan- also called as Deer park. This forest has several deer, crocodiles, and different kinds of birds.
Konkaleshwari Kali mandir (dedicated to Goddess Kali) which is 200 years old has a stone image of goddess Kali.
Sarvamangala temple (place where Sati's umbilicus fell)
At Nawab Hat is 108 Shiva Ling temples built in 1788 by Rani Bishnukumari (Queen of Burdwan)
Meghnad Saha planetarium is another important tourist attraction
The temple
Bahula Devi temple is an ancient temple with marvellous architecture on its walls. The temple has a large courtyard in the front with flooring in red stone. The temple is located in a calm and serene environment which makes the chiming of the bells, chanting of the mantras heard even at a distance.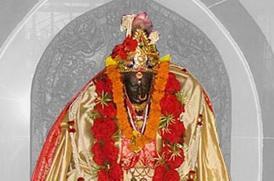 Festivals and Fairs
Navaratri is celebrated in Chaitra (March- April) and in Ashwija (Sep- Oct) for nine days. Special yagnas and poojas are conducted on Durga Puja and Kali puja. Maha Shivaratri is also celebrated with great fervor. Devotees fast on Shivaratri and offer fruits, milk, fruits and Bilwa leaves to Lord Shiva. Additionally fairs are held during Navaratri and Shivaratri.