Introduction
Also known as Banaras or Kashi, Varanasi is situated in the state of Uttar Pradesh, India. Varanasi is located on the west bank of the holy Ganga. The name Varanasi is derived from two rivers i.e. Varuna (north) and Assi (south). As per legends, Varanasi was believed to have been founded by Lord Shiva some ten thousand years ago. Even in the Ramayana and the Mahabharata, this holy place has been mentioned several times.
It is believed that those who die within the boundaries of Kashi city attain salvation. Thousands of Hindu devotees throng this city at least once in their lifetime. Kashi city is also renowned for performing last rites. Many like to spend the last phase of their life in Varanasi to attain salvation. It is also a place for minute observation of Hindu belief, faith, culture and tradition.
Many prominent temples are located in Varanasi such as Kal Bhairava temple, Kashi Vishwanath Temple, Durga Kund, and Annapoorna temple. Renowned as a prime centre of art, craft, education and culture, it is also very famous for silk weaving.
History of Varanasi
Once Mark Twain had said, "Benaras is older than history, older than tradition, older even than legend and looks twice as old as all of them put together." It is regarded as the oldest living city in the world.
With its origins believed to be in the tresses of Lord Shiva, the city has been a centre of civilization and learning since time immemorial. Kashi city is also revered as the birth place of the 23rd Tirthankara i.e. Parsvanath.
The harmonious coexistence of Vaishnavism and Shaivism in Varanasi has attracted many great minds towards this city such as Mrs. Annie Besant, Pandit Madan Mohan Malviya and Maharshi Patanjali. Kashi or Varanasi has often been aptly termed as the 'Cultural capital of India'.
Tulsi Das, Prem Chand, Pandit Ravi Shankar, and Ustad Bismillah Khan are all stalwarts of this blessed city.
Festivals of Varanasi
Owing to its rich religious and cultural heritage, Varanasi buzzes with festivals round the year. The frequency of festivals is almost every month. It also hosts a number of melas or fairs, which is celebrated with great pomp and zest. The festive atmosphere celebrates life at its best.
Ghats of Kashi
Bathing in the ghats of the Ganges in Varanasi is supposed to cleanse one's mind and soul. Some of the most prominent ghats are as follows –
Assi Ghat
Assi Ghat is the southernmost ghat of Varanasi and is situated at the confluence of Ganga and Assi rivers. Shiva lingam and Asisangameshwar lingam are also located here. It was here that Tulsi Das composed his famous Ramcharitmanas.
Assi Ghat is mentioned in Ancient scriptures such as Agni Purana, Matsya Purana, Kurma Purana, Kashi Khanda, and Padma Purana. Thousands of pilgrims flock the ghat in the months of Chaitya (March-April), Magh (January-Febuary), and for other major occasions such as Ganga Dussehra, Probodhoni Ekadashi, Makar Shankranti, solar/ lunar eclipse etc.
Dasaswamedh Ghat
Literally meaning Ghat (river front) of ten sacrificial horses, Dasaswamedh Ghat is one of the most important ghats of Varanasi. As per legends, Lord Brahma had sacrificed ten horses to allow Lord Shiva's return from banishment.
Harish Chandra Ghat
Named after the mythological King Harishchandra, it is one of the two cremation ghats of Varanasi. It is believed that if a person is cremated in this ghat he attains salvation or moksha. It is also sometimes referred to as the Adi Manikarnika Ghat.
Manikarnika Ghat
One of the other cremation ghats of Varanasi, Manikarnika Ghat is believed to liberate a person from the cycle of birth and death when cremated here as per the Hindu traditions. It also hosts the Manikarnika Kund or the Giant Well, believed to be dug by Lord Vishnu at the time of creation.
Tulsi Ghat
Named after Tulsi Das, Tulsi Ghat is believed to be the place where Tulsi Das composed his Ramcharitmanas. It is also believed that Ram Leela was first staged here to commemorate Lord Rama. Earlier the ghat was known as Lolark Ghat.
Temples and other attractions
·        Vishveswara (Vishwanath) or Shiva temple – Also known as the Golden Temple, this is the main temple of Varanasi. It was rebuilt by Ahalya Bai of Indore in 1776, after Aurangzeb had destroyed the temple to build a mosque.
·        Durga Temple – Also known as Monkey Temple, this was built in the 18th century by a Bengali Maharani. It is dedicated to goddess Durga, and is built out of ochre colored stone. It is also inspired by North Indian Nagara style of architecture with a multi-colored Shikara.
·         The other important temples are Bharat Mata temple, Tulsi Manas temple, Annapurna temple and Kaal Bhairav temple.
·         Ramnagar Fort & Museum (16 km) – The residence of Kashi Naresh, this museum exhibits sabres, costumes, swords and palanquins.
·         Other tourist attractions of Varanasi include Anand Mayee Math, Nepali temple, Kabir Janmasthali Lahartara, Guru Ravidas Mandir, Raja Jai Singh's Observatory at Man Mandir Ghat.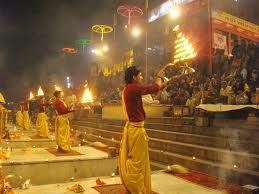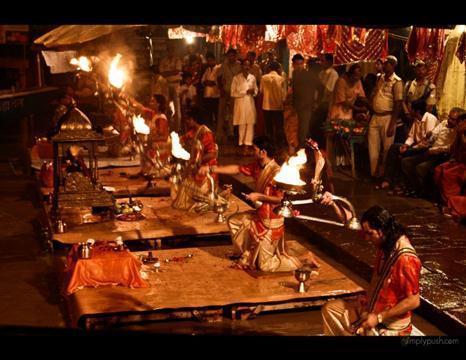 References
Published On: 08-03-2014
(Others): 
http://www.theindiatravel.com/travel/favourites/pilgrimage/varanasi.htm
http://www.mustseeindia.com/Varanasi
http://www.varanasicity.com/
www.google.com