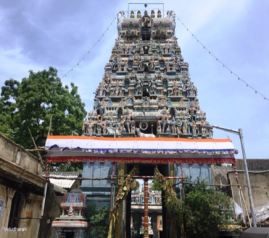 KOMALEESWARAR TEMPLE, PUDUPET, CHENNAI
INTRODUCTION
Sri Komalambigai Sametha Komaleeswarar Temple is situated in Pudupet, a few kilometres away from Egmore Railway Station.
The temple is a medieval temple, and as per legend, once a cow was seen worshipping an anthill by pouring its milk on it. By seeing this wonderful scene, the local villagers went to that place, and there they saw a beautiful Shivalinga which was located near the anthill. The villagers informed about this wonderful incident to their then ruler, and the king had happily agreed, and built an excellent Temple for Lord Shiva, and he had named it as Sri Komaleeswaran Temple, and due to the name of the temple, the area located nearby the temple is called as Komaleeswaran Pettai.
Apart from the main shrine, shrines for Navagrahas, Lord Vinayaka, Dakshinamurthy, Brahma, Durga, Vishnu, Anjaneya, Lord Nataraja and Lord Muruga are also available and Ma Shakti Devi is named as Komalambigai, and her wonderful shrine is also found inside the temple.
In this temple, Lord Nandikeswarar idol is found before the shrine of Ma Komalambigai, instead of the usual lion statue.
There is a sacred Vilva tree, and we can find lot of devotees worshipping this tree also, by considering it similar to Lord Shiva.
The consecration ceremony of the temple was performed during the year 2007, and the temple authorities are supposed to perform another consecration ceremony in the near future.
Those who suffer from health related problems and towards repayment of loan are advised to worship the Lord on a daily basis, in order to get their problems solved. Unmarried persons and childless couples are also worshipping here, and they are getting good results after they visit this temple consecutively.
During festivals like Maha Sivarathri, Navarathri, Karthikai Deepam, Aarudhra Dharisanam and Pradosham, special pujas are being performed in this temple. The temple is kept open for public darshan between 6 am to 11 am and between 5 pm to 9 pm.
"OM SRI KOMALEESWARAYA NAMAHA" 
"OM MA KOMALAMGIBAI AMMANE NAMAHA"
WRITTEN BY
R.HARISHANKAR