Introduction
Attahas Shakthi Peet is one of the important Shakthi peetas where Sati's lower lip fell. Here Devi is worshipped as Phullara or Fullara meaning Flowering or Blooming and Lord Shiva is worshipped as Vishwesh (Lord of the universe)
Location and other places of interest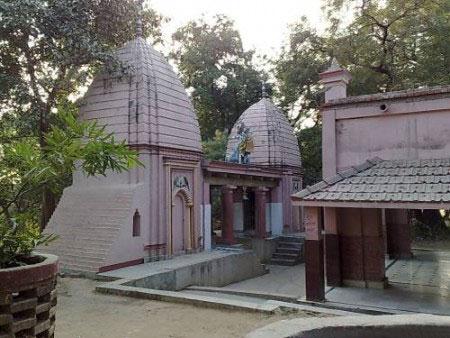 Attahas temple is located on the East of Labhpur, West Bengal. Attahas is about 6.5 miles from Birbhum to Ahmedpur to Labhpur. It is about 115 kms from Kolkatta. The temple is one of the tourist attractions. The temple of Vishwesh is located beside the Devi temple. Attahas temple is located in a remote place, and the connectivity is only by road which is good. Nearest railway station is Ahmedpur district. Nirol bus stand is the nearest bus station which is about 5 km to the temple. From the railway station, one has to take local transport to reach the temple. The nearest air transport is from Netaji Subhas Chandra Airport which is about 196 kms from Labhpur.  There are several temples dedicated to different gods located in the same vicinity.  Accommodation is easily available near the temple.
History
In Tretrayuga, Lord Hanuman collected 108 blue lotuses from the pond located near the temple, when Lord Sri Rama required them for the worship of Maa Durga. Maa Phullara's idol- lower lip made out of stone is 15 to 18 feet wide.

This is an ancient temple. There are various gods and goddesses depicted on the walls and pillars of the temple along with some shlokas. The temple authorities have a dress code for devotees visiting the temple. Women are expected to be dressed in saris and men in Kurta & Pyjama.
Festivals, Rituals and Fairs
Devotees offer Anna Bhog to Maa Phullara. The offerings made to god are usually items grown from soil.
Navaratri held in Ashwija masa (September- October) is celebrated in a big way. Devi is worshipped in different forms on all the nine days. Some people do not eat anything grown underground during Navaratri. Special ceremonies and pujas are carried out during Navaratri. Usually tourists visit the temple in December.
In addition, Navratri fair is held in April for nine days. During this fair, a large number of devotees visit the place.
The temple is open from 6.00 am to 10.00 pm.