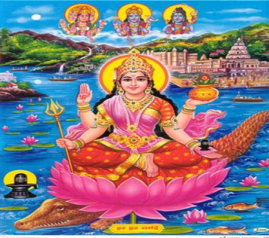 MA NARMADA NAMAVALI
INTRODUCTION
Narmada River is the holiest river and she can be considered equivalent with Ma River Ganga. River Narmada, Ganga, Yamuna, Godavari and Cauvery are the holiest rivers, and they are specially created in this earth for doing goodness to their devotees. They are formed through the grace of the Trimurty, in order to cleanse our sins and to make us to live a sin free life.
According to legend, it is believed that Mata Ganga itself takes a holy bath in the great river Narmada in order to make herself, pure and holy.
Once while Lord Shiva was meditating for a long time, his sweat was formed into a river, and that river is called as Narmada. And she is considered as the holy daughter of Lord Shiva.
Since, she is the daughter of Shiva, she protects us from snake bites, and removes the sufferings in our life, and gives peacefulness, prosperity and happiness to us. Her master is Lord Varuna Dev, who showers his grace on to her, and gives strength and power to her in order to discharge her duties properly.
Her vehicle is a crocodile, and she is considered as a very pious and a kind goddess, who forgives our sins, and prays for our well-being to Lord Shiva, and blesses us and gives various boons to us.
Let us worship the holy river Mata Narmada by chanting her 108 beautiful names, and let us be blessed.
NITIMBINI
NITAMBI
NIRDHARA DHANAVARRDDHANI
NIRDHUTI
NIRDDAYA DUSHTHA
NISHTHURI
NAIKAKAMAGA
NAMBHORUPA
NABHESHI
NAGARI
NAGARATMIKA
NARITIPRIYA NEMI
NIRIRBHIKA
NISHKALESHVARI
NARESHPALINI
NAIKA
NAGASTHA
NAGAPARRSVARI
NAGENDRAMANINI
NAGHA
NADESHI
NARMMABHASHINI
PARAMA PARAMESHI
PAKASHASANA\
POSHINI
PAVITRA
PAVANI
PADRAMA
PADUKA
PADAKECHARI
POSHINI
POSHIKA
PESHA
PURVVAMAMBIKA
PANCHAMI
PANCHITA
PANCHALI
PARAMESHVARI
PAKSHADHARI
PAKSHESHI
PAKSHINI
PARAMATMAKI
PANCHARI
PINCHARI
PINGA
PINGALA
VIKAVALLBHA
PIKARUPADHARA
PITRA
PIKESHE
PIKASBHASHINI
PASHUPRITA
PASURATA
PURANDARA HITAISHINI
PARUHUTAPRIYA
PADMA
PADMAMALA VIBHUSHANA
PAPASANTRASINI
PAPETPATHANI
PANKAJESHVARI
PANKAJASHI
PARABHUTIH
PATHINI
PARASHAMOHAKARINI
PARASHI
PARAHANTRI
PATHRIASHINI
PATHIPRIYA
PATHIRATA
PARASAMME HAKABINI
PARESHI
PARAHANTRI
PARABRAHMA SVARUPINI
PARACHARATA
PAPA PADEMASHI
PADRAM SARVAVIDYA NAM
PAPAPASHA VINASHINI
PADUPRITI
PATHRATA
PANINATA BUDRISDHAVADRANI
PUNKRIKA VISHALAKSI
PUNNRA DHARNAPUNINRI
PUTANA
PUTRAPALI
PURUSHARTHAPRASADHINI
PAPASTHA
PAPADAMANI
PADAPANKJA SEVITA
PHALADA
PHALARUPA
PHAESHI
PHALARDDHANI
PHUNKARI
PHANIPALI
PHANESHI
PATRAGESHVARI
PHUTTRARI
PHALADA
PHERI
PHALESHI
PHALAPISHANI
PHADAKARA
PHANADARSHA
PHALUNI
PHALUPHALANIMAKA
PUTRARI
PHULADA
PHETRI
"OM"
WRITTEN BY
R.HARISHANKAR