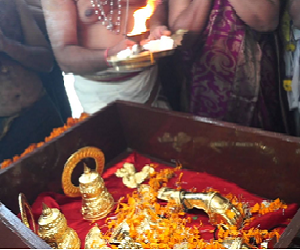 THIRUVABHARANAM
INTRODUCTION
Thiruvabharanam is the golden ornaments of Lord Ayyappan, which was made as per the instructions given by the Pandalam king, the foster father of Lord Ayyappan. Thiruvabharanam would be kept in a box, and would be protected by the Royal family members of the Pandalam Palace, which is situated nearby Valiyakoikkal Temple at Kerala.
During the end of the Sabarimala season, in the month of January, every year, the ornaments are taken from the Pandalam palace to Sabarimala in the form of a procession and various pujas would be performed to the Ayyappa idol.
Three beautiful boxes would contain Thiruvabharanam (Sacred ornaments of Lord Ayyappa), puja vessels, and special flags. Before reaching the Sabarimala temple, a divine Garuda bird would be flying above the temple in order to honour Lord Ayyappan.  Devotees would eagerly watch the sight of Garuda and would worship it with full of bhakti in their mind.
Some members of the Royal family also would join the procession, and on the auspicious day of Makara Jyothi, the idol of Lord Ayyappa at the Sabarimala temple is adorned with Thiruvabharanam. After the end of the Sabarimala pilgrim season, the jewels would be returned to the Pandalam Royal palace.
During the Thiruvabharanam procession, lot of devotees would participate in the holy event, in order to get the blessings of Lord Ayyappa, and during their journey from Pandalam to Sabarimala, they would be visiting some temples like Ayroor Puthiyakavu Devi temple, and would offer their worship in those temples.
Lord Ayyappa is residing in Sabarimala and protecting his devotees from their day to day problems in their life. He is the incarnation of Shiva and Vishnu, and he has taken the avatar in order to destroy the evil forces and to protect the good ones. Every year, lot of devotees are visiting the holy shrine of Sabarimala after observing strict fasting for 41 days, in order to get the divine grace of Lord Ayyappa.
Let us worship Lord Ayyappa and be blessed.
"OM SWAMIYE SARANAM AYYAPPA"
WRITTEN BY
R.HARISHANKAR