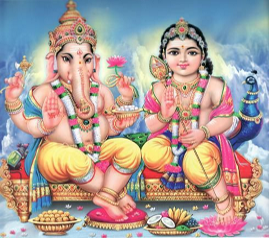 WHO IS OUR MOST FAVOURITE GOD, LORD VINAYAKA OR MURUGA?
INTRODUCTION
Both Vinayaka and Muruga are considered to be the most favourite gods by their devotees, and while Vinayaka has temples in every nook and corner in India, and he is worshipped as the first god by his devotees, Lord Muruga also is considered as the popular deity, and he is most popularly worshipped by the Kaumaram Sect of people in South India, and especially in Tamil Nadu. Since Murugan is known as the Tamil God, all of his six main abodes, which are popularly called as Arupadai Veedu Temples, are situated only in Tamil Nadu. The Ganapatya Sect of people worships Lord Vinayaka as their main deity, and they would consider all other deities as the minor deities.
Since these two gods are the sons of Lord Shiva and Ma Parvati, they are also considered as the child deities, and in most of their pictures they resembles as child gods. As per the Vinayaka Purana, the entire universe is found in the stomach of Lord Vinayaka, and in the Skanda Purana it was mentioned, that the entire universe is found in the two eyes of Lord Muruga. Both of these two child gods are worshipped by most of the Hindus, since they contain the features of their parents, Shiva and Parvati. Those devotees, who worship both Vinayaka and Muruga sincerely, would mostly name their child as "GANAPATHY SUBRAMANIYAM", by combining the names of Lord Vinayaka and Muruga, in order to express their love and affection on these marvellous and worshipful gods.
Lord Vinayaka helped a lot to his brother Lord Muruga in order to make him to get married to Ma Valli. Vinayaka took the form of a huge wild elephant, began to run, and approached Ma Valli, and this made Ma Valli to get afraid of that divine elephant, and hence, she hugged Lord Muruga, who was in the form of a hunter. Lord Muruga is also worshipped throughout the world, and his giant sized statue is found in the Batu Cave Temple at Malaysia.
We can worship both of these two gods by considering them as our favourite deities regularly. Lot of stories are associated with them, and both of them were performed lot of miracles in the lives of their devotees. The existence of these two gods can be easily traced from the life history of Ma Avvaiyar, since the great divine old lady had interacted with both of these two gods in a pleasant manner, and she lived  before two thousand and three hundred years ago, during the time of the Sangam period. Lord Vinayaka and Lord Muruga had appeared in the dreams of many ancient Tamil Kings in order to make them to build temples for them.
"OM SRI GANAPATHY SUBRAMANYAYA NAMAHA"
WRITTEN BY
R.HARISHANKAR