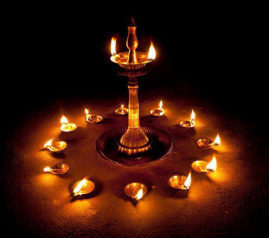 KARTHIGAI DEEPAM
INTRODUCTION
Karthigai Deepam is a festival of lights which is celebrated by the Hindus who belongs to South India. This festival is observed during the Tamil month of Kartigai (November to December). During Karthigai month, oil lamps would be lit mostly on every day, and during this festival, big lamps are lighted in the Shiva temples, and apart from that, Muruga Purana would be read and fasting also would be observed in the nights by the devotees.
As per legend, once, the six celestial stars took care of the six babies, who were the sons of Lord Shiva, in the Saravana tank, and later all the six babies have been formed into one deity, who is our beloved god Muruga. Since Lord Muruga was born on the Tamil month Karthigai, he was hence called as Karthikeya. Lord Shiva created Lord Muruga from the spark of his third eye. Since the stars properly took care of child Muruga, they were blessed by Lord Shiva to attain immortality and still now they are permanently dwelling in the skies. Those who offer worship to the Divine Karthigai Star mothers are considered equivalent to offering prayers to Lord Muruga himself. These star mothers are being worshiped by lighting up Deepam in the evening of the Karthigai Deepam festival day in the homes and also in the outside of the homes. Karthikai Deepam connotes Lord Muruga's birthday.
The celebration of Karthigai Deepam is also mentioned in our ancient Sangam Literature. Lamps are lighted in order to ward off the evil forces and to celebrate the festival with full of joy. Fire crackers also would be burst out in the streets. Thiruvannamalai Maha Deepam would be lit on the Karthigai Deepam festival at around 6 pm at the top of the holy mountain. The entire Mountain is considered as a Holy Shiva Lingam. Maha Deepam would be lit using several kilos of Ghee, and Lord Shiva would bless the devotees from the Temple at the time of lighting of the Maha Deepam.
This year, Karthigai Deepam is celebrated on 19/11/2021.
"OM"
WRITTEN BY
R.HARISHANKAR