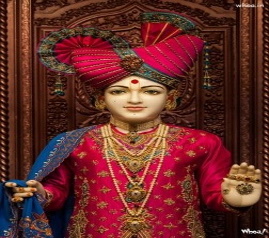 Sri Swami Narayan Namavali
INTRODUCTION
Swaminarayan (1781 –1830), also known as Sahajanand Swami, was a yogi. He is believed by his followers as an avatar of Lord Narayana.
Swaminarayan was born as Ghanshyam Pande into a Brahmin family at Uttar Pradesh, India in 1781. In 1792, he travelled across India, and adopted the name as Nilkanth Varni. Nilkanth Varni visited the Jagannath Temple in Puri as well as temples in Badrinath, Rameswaram, Nashik, Dwarka and   Pandharpur.
During his journey, he has done lot of welfare activities to the people and he settled in the state of Gujarat around 1799.
In 1800, he was adapted into the Uddhav sampradaya by his guru, Swami Ramanand, and was given the name Sahajanand Swami. In 1802, his guru made him the leader of the Uddhav Sampraday before his death. Sahajanand Swami taught the Swaminarayan Mantra to the people. From then onwards, he was known as Swaminarayan. The Uddhav Sampraday became known as the Swaminarayan Sampraday.
Swaminarayan died on 1 June 1830, and he was cremated in Gadhada, Gujarat.
Swaminarayan, established temples, as part of his philosophy of deity worship, and these Mandirs are known as Swaminarayan Hindu temples.
It is believed that the sage Narayana who took birth as Lord Krishna in Dwapara yuga, has again taken the avatar as "SWAMI NARAYAN" in this Kali Yuga. He is regarded as an eminent and efficient guru among his followers. He has done many miracles to the people during his life time, and is still answering to the prayers of his devotees from his Mandir. His Mandirs are situated all over India, and also some of them are situated in foreign countries.
Let us pray to this great saint, for our well-being, and for the well- being of the people of the entire universe.
Let us chant his 108 divine names and be blessed.
1. Om Shri Krishnaya Namaha
2. Om Shri Vasudevaya Namaha
3. Om Shri Nar-Narayanaya Namaha
4. Om Shri Prabhave Namaha
5. Om Shri Bhakti-Dharmatmajaya Namaha
6. Om Shri Ajanmane Namaha
7. Om Shri Krishnaya Namaha
8. Om Shri Narayanaya Namaha
9. Om Shri Haraye Namaha
10. Om Shri Harikrishnaya Namaha
11. Om Shri Ghanshyamaya Namaha
12. Om Shri Dharmikaya Namaha
13. Om Shri Bhaktinandanaya Namaha
14. Om Shri Bruhadvratdharaya Namaha
15. Om Shri Shuddhaya Namaha
16. Om Shri Radha-Krishnaya Namaha
17. Om Shri Marutsutpriyaya Namaha
18. Om Shri Kalibhairavadya Namaha
19. Om Shri Jitendriyaya Namaha
20. Om Shri Jitaharaya Namaha
21. Om Shri Tivravairagyaya Namaha
22. Om Shri Ãstikaya Namaha
23. Om Shri Yogeshvaraya Namaha
24. Om Shri Yogakalapravruttaye Namaha
25. Om Shri Atidhairyavate Namaha
26. Om Shri Gnanine Namaha
27. Om Shri Paramhansaya Namaha
28. Om Shri Tirthkrute Namaha
29. Om Shri Tairthikarchitaya Namaha
30. Om Shri Kshamanidhaye Namaha
31. Om Shri Sadonnidraya Namaha
32. Om Shri Dhyannishthaya Namaha
33. Om Shri Tapahpriyaya Namaha
34. Om Shri Siddheshvaraya Namaha
35. Om Shri Svatantraya Namaha
36. Om Shri Brahmavidyaya Namaha
37. Om Shri Pashandochave Namaha
38. Om Shri Svaswarupachalsthitaye Namaha
39. Om Shri Prashantmurtaye Namaha
40. Om Shri Nirdoshaya Namaha
41. Om Shri Asuragurvadiya Namaha
42. Om Shri Atikarunyanayanaya Namaha
43. Om Shri Uddhavadhvaya Namaha
44. Om Shri Mahavrataya Namaha
45. Om Shri Sadhushilaya Namaha
46. Om Shri Sadhuvipra-prapujakaya Namaha
47. Om Shri Ahimsayagna-prastotre Namaha
48. Om Shri Sakarabrahmaya Namaha
49. Om Shri Swaminarayanaya Namaha
50. Om Shri Swamine Namaha
51. Om Shri Kãladoshanivarakaya Namaha
52. Om Shri Satshastravyasanaya Namaha
53. Om Shri Sadyasamadhikaya Namaha
54. Om Shri Krishnarcharaya Namaha
55. Om Shri Kauladvishe Namaha
56. Om Shri Kalitarakaya Namaha
57. Om Shri Prakasharupaya Namaha
58. Om Shri Nirdambhaya Namaha
59. Om Shri Sarvajivahitavahaya Namaha
60. Om Shri Bhaktisamposhakaya Namaha
61. Om Shri Vagmine Namaha
62. Om Shri Chaturvargaya Namaha
63. Om Shri Nirmatsaraya Namaha
64. Om Shri Bhaktavarmane Namaha
65. Om Shri Buddhidatre Namaha
66. Om Shri Atipavanaya Namaha
67. Om Shri Abuddhihrute Namaha
68. Om Shri Brahmdhamkaya Namaha
69. Om Shri Aparajitaya Namaha
70. Om Shri Asumudranta-satkirtaye Namaha
71. Om Shri Shritasansrutiya Namaha
72. Om Shri Udaraya Namaha
73. Om Shri Sahajanandaya Namaha
74. Om Shri Sadhvidharmaya Namaha
75. Om Shri Kandarpadarpaya Namaha
76. Om Shri Vaishnavakratuve Namaha
77. Om Shri Panchayatanaya Namaha
78. Om Shri Naishthikavrataya Namaha
79. Om Shri Pragalbhaya Namaha
80. Om Shri Nispruhaya Namaha
81. Om Shri Satyapratignaya Namaha
82. Om Shri Bhaktavatsalaya Namaha
83. Om Shri Aroshanaya Namaha
84. Om Shri Dirghadarshine Namaha
85. Om Shri Shadurmimaya Namaha
86. Om Shri Nirahankrutaye Namaha
87. Om Shri Adrohaya Namaha
88. Om Shri Rujave Namaha
89. Om Shri Sarvopakarakaya Namaha
90. Om Shri Niyamakaya Namaha
91. Om Shri Upashamasthitaye Namaha
92. Om Shri Vinayavate Namaha
93. Om Shri Gurave Namaha
94. Om Shri Ajatvairine Namaha
95. Om Shri Nirlobhaya Namaha
96. Om Shri Mahapurushaya Namaha
97. Om Shri Ãtmadaya Namaha
98. Om Shri Akhanditarshaya Namaha
99. Om Shri Vyasasiddhantaya Namaha
100. Om Shri Manonigrahanaya Namaha
101. Om Shri Yamadutakaya Namaha
102. Om Shri Purnakamaya Namaha
103. Om Shri Satyavadine Namaha
104. Om Shri Gunagrahine Namaha
105. Om Shri Gatasmayaya Namaha
106. Om Shri Sadachara-priyataraya Namaha
107. Om Shri Punyashravanaya Namaha
108. Om Shri Sarvamangalaya Namaha
"OM"
WRITTEN BY
R.HARISHANKAR