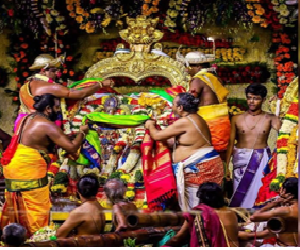 THIRUKALYANAM URCHAVAM
INTRODUCTION
Thirukalyanam urchavam would be performed to the divine deities in the famous temples like Tirumala to Lord Venkateswara with Ma Padmavathi, Thiruthani to Lord Murugan with Ma Valli and Devasena. This Seva would be usually performed by the newly married couples in the temples, in order to peacefully live together throughout their life.
According to legend, similar to the people in the earth, the divine deities are also got married, and they are still living together, and they act as an example for us. Similar to Tirumala and Thiruthani Temple Kalyanotsavam, the divine marriage ceremony would also be performed in most of the important temples of the deities. This ceremony was performed by the ancient people also, especially in the Ranganatha Temple at Srirangam. During the period of Sri Ramanuja, most of the Vaishnavites have performed Kalyanotsavam at the Srirangam Temple. Performing Kalyanotsavam to the deities is similar to performing the 60th birthday function in the form of wedding to our parents, also called as Shashti Poorti.
In our human life, daily we are facing lot of problems in our homes as well as in our offices and other outside places. Sometimes some rowdy may attack us, or some drunken person may ask money from us. Even if we want to ignore, these kinds of people in our life, due to our ill fate, sometimes it may happen suddenly in our life. In order to avoid or in order to overcome such kind of things in our life, it is the best way of performing Thirukalyanam Urchavam to our beloved deities.
By doing these divine marriage functions in the temples, we would be blessed by the divine gods in the heaven, and unwanted things would not happen in our life. All of our diseases would disappear from our body, and we would get good health and can gain more wealth in our life.
Daily we are spending lot of money for purchasing lot of unnecessary things in our life. Instead of that, we can pay the prescribed amount in the temples, and can perform Thirukalyanam Urchavam to the divine deities with great pleasure in our mind.
"OM"
WRITTEN BY
R.HARISHANKAR