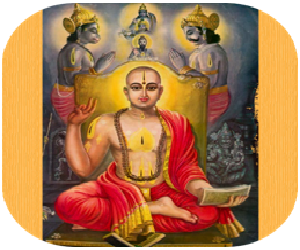 VAYU STUTI
INTRODUCTION
The Vayu Stuti is one of the popular poems written by the learned scholar Sri Trivikrama, who was the disciple of Guru Madhwacharya. This sacred text was written  in praise of Sri Madhvacharya, the founder of Madhwa community. Sri Madhvacharya, is believed to be an incarnation of Lord Vayu and he has proved it in many circumstances during his lifetime.
Once Trivikramacharya had witnessed the puja performed by his Guru Sri Madhvacharya in the main shrine of Udupi Sri Krishna temple and there he found that his Guru Sri Madhva was performing puja to Lord Shri Rama as Hanuman, to Lord Krishna as Bhimasena and to Lord Veda Vyasa as Madhvacharya. Amazed by this divine event, he composed the Vayu Stuti and dedicated it with great respect to his guru Sri Madhvacharya. In the Vayu Stuti, the Narasimha Stuti, also is mentioned. The Vayu Stuti is also called as Hari Vayu Stuti, and this divine poem would be regularly sung by the Madhwa Brahmins, in order to honour their great Guru Sri Madhwacharya.
In this poem, the important qualities of Lord Vayu are mentioned, about his avatars, his enormous powers, and his great devotion on Lord Vishnu. Whoever recite the Vayu Stuti, must recite the Narasimha Stuti also, since it was instructed by Sri Madhwacharya himself. Lord Vayu contains super natural powers, and only through his presence, we are all surviving in this world. Without breathing, we could not live in this world, and we could not discharge our duties properly. Lord Vayu makes us to breathe properly, and through his avatars, he invokes the "VISHNU BHAKTI" amongst the people.
Madhwacharya is a great saint, and it is believed that he is still living in the Bhadrikashram, and serving his Guru Sri Vedavyasa in a pleasing manner. Since he is still alive, there is no Jeeva Samadhi built for him. Through his blessings and his valuable teachings, Madhwa Saints like Sri Vyasaraja and Guru Raghavendra have shined brightly, and they have become great scholars, and they have also spread the teachings of Guru Madhwacharya amongst the masses.
"OM SRI GURU MADHWARE NAMAHA"
WRITTEN BY
R.HARISHANKAR