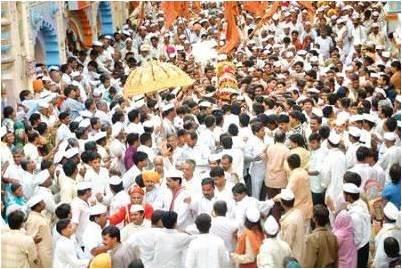 Like every year, thousands of warkaris will trace the Wari route from Alandi to Pandharpur battling harsh weather and living conditions. Starting June 16, chants of 'Vitthal, Vitthal' and 'Jay Hari' will resonate in the state for 20 days, until the warkaris reach their destination. And travelling with them will be a team of nine people that will take the Wari to the digital platform. Swapnil More, from the Facebook Dindi team, informs that this year, besides taking a major chunk of the Wari live online, the team also has a theme — 'Wari Ti Chi'.
"Through this year's procession, we want to bring focus to the issues women face in their daily lives. We have interviewed prominent social activists who have been working in this field," informs Swapnil, a descendant of Sant Tukaram. The activists will be speaking about subjects like domestic violence, menstrual cycles and female foeticide, among others. 'These topics are still considered taboo in the society and our aim is to bring focus to them through the Wari. We will be publishing 20 interviews across the 20 days of the procession and there will also be graphic representations to drive home the point," he adds.
As part of their endeavour to take the Wari to all those who cannot make it to the actual procession, Swapnil and his team has also made it a point to spread awareness about issues that plague the society. "Last year, we had 'Save Water' as the theme and a lot of people gave us good feedback. We are taking it a step ahead this year," says Swapnil. In the warkari sect, people (irrespective of gender) are addressed to as 'mauli', a term for mother. Even the saints, Dnyaneshwar and Tukaram, as well as Lord Vitthal are referred to as mauli. "In a way we are only reiterating the whole concept of 'mauli'; giving women the respect they deserve and making them aware of their rights," informs Swapnil.
source: http://timesofindia.indiatimes.com