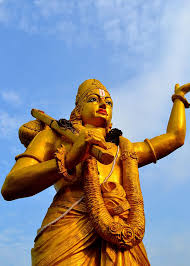 Annamacharya (1408 –1503) is a great Hindu saint and a poet and has composed many songs on Lord Venkateswara. He is well versed in Carnatic music. He is a great devotee of Lord Vishnu and considered to be an avatar of Nandaka, Lord Vishnu's sword.
Life
TallapakaAnnamacharya was born in Kadapa district of Andhra Pradesh, India. Along with him, his wife and his son were also experts in music and writing poems.
Spiritual work
Annamayya is said to have composed many songs on LordVenkateswara. He is the author of his musical work "Sankirthanalakshanamu".
During his life, Annamacharya composed a lot of sankirtanas, the famous among them are -Dwipada, SringaaraManjari, and VenkatachalaMahatmamyam. His works were in Telugu, Sanskrit and a few other languages of India.
Annamacharya wrote the sankirtanas on palm leaves, and later his son Tirumalacharya got them engraved on copper plates. In 1922, many of his works were found the opposite to the Hundi (donation box) of TTD Devasthanams. And TirumalaTirupatiDevasthanamsis preserving his famous compositions. AmongAnnamayya's compositions, BrahmamOkatesong, became very popular among his devotees.
TirumalaTirupatiDevastanams (TTD) is working hard to promote and preserve the music and literature of Annamacharya.
Importance
He has also opposed the caste discrimination, and he mentions it in his sankirtanas, by telling that the relationship between God and human is the same irrespective of the caste.
CONCLUSION
Through his music and poems, Sri Annamacharya has mesmerized the bhaktas of Lord Venkateswara. His music compositions and poems were very much helpful in spreading the bhakti movement of Lord Venkateswara. His songs will be pleasant to our ears, and our mind will get fully satisfied by hearing his songs, and unknown thoughts will be removed from our mind, and spirituality will be fully invoked into our body. Let us pray to this divine saint and be blessed. Let us chant his name continuously and get the blessings of Lord Venkateswara.
"OM SREE ANNAMACHARYAVE NAMAHA"
WRITTEN BY
R.HARISHANKAR